Quinoa ticks all the boxes when it comes to pantry essentials. Quinoa recipes are quick and easy to cook. It's full of fiber and protein. It pairs up with almost anything. And best of all, it's delicious! Although technically a seed, it is classified as a whole grain. It gained popularity because of its high protein and fiber content.
According to the USDA, 1 cup of cooked quinoa contains 5 gm of fiber and 8 gm of protein. But what makes quinoa a superfood is the high quality of the protein. Unlike most plant proteins, quinoa contains complete proteins, that is, it has all the nine essential amino acids that we cannot make on our own. But to get the best out of quinoa, you need to understand how to cook it. We tell you the perfect quinoa recipe with some quick serving ideas you can make for breakfast, lunch, or dinner. [1] [2]
10 Quick & Easy Quinoa Recipes
Quinoa is a popular alternative for vegans and those on a gluten-free diet. For vegans, it provides those critical proteins that are otherwise lacking in other plant proteins. The naturally gluten-free grains are ideal for those with gluten intolerance or celiac disease. Adding it to your diet is super easy as you will see with our 10 serving suggestions:
Quinoa Salad
The easiest and quickest way to cook quinoa is to use it in a salad. You can use your favorite salad vegetables and greens like kale and baby spinach to half a cup of quinoa for a quick salad. Add roasted vegetables, meats, or fishes to make it more interesting. We love quinoa with a zingy lemon dressing. But go and experiment till you find your favorite. Other popular versions include quinoa fruit salads and Asian salads.
Quinoa Bowl
A quinoa bowl is a more filling version of the salad. In a bowl, put the quinoa at the bottom and top them with your favorite roasted or pan-seared vegetables, fishes, or meats. You can add nuts and fruits like avocados for healthy fats. Or just put an egg sunny-side-up for a fun and colorful bowl. We love experimenting with different dressing for our quinoa bowl. Spicy harissa goes with almost anything and the peanut sauce is perfect with a Thai-themed bowl.
Quinoa Fried Rice
This is a misnomer because there is no rice in this preparation. Instead, we use quinoa. Just follow your favorite fried rice recipe and add quinoa in place of rice. Fried rice was never quite as healthy!
Vegan Quinoa Chili
The quinoa chili is a hearty dish that is rich in flavor. It's a crowd-pleaser, which can be easily scaled up or down in terms of quantity. Cooked quinoa is added along with kidney beans. Serve it with the usual cornbread and salad.
Quinoa soup
Quinoa can be easily added to your favorite soup for a hearty meal. The addition of quinoa gives a bowlful of soup added fiber and protein, while making it more filling. It can be added to any soup where cereals like grains, noodles, or pasta are added.
Tabbouleh
The traditional tabbouleh is made with bulgar wheat. You can substitute the bulgar for the quinoa. This Middle-Eastern salad that stars parsley, tomatoes, and cucumbers along with quinoa is refreshing.
Quinoa-Vegetable Gratin
Rice is not often used for making gratin, but when added, it makes a delicious meal. Switching rice for quinoa makes the gratin even more delicious. It also adds proteins to the dish, making it more balanced.
Quinoa-Stuffed Vegetable bake
The Greek version of stuffing vegetables like peppers, tomatoes, and zucchini gets an appetizing makeover with quinoa. The nutty flavors of the grains go well with the vegetables and add much-needed proteins and fibers.
Quinoa Porridge
Cook the quinoa as you like your porridge, mushy or dry. Add any milk of your choice. Top the bowl with fruits, berries, and nuts. You can add honey or maple syrup for sweetener. Alternatively, use the healthy sugars of fruits like dates or bananas to sweeten your porridge.
Quinoa Brownie
One of the more surprising recipes you will find on the web is the quinoa brownie. It's gluten-free and healthier than the usual brownies. It also makes surprisingly fudgy and delicious brownies.
How to Make The Perfect Quinoa?
Before making these recipes, you need to master the perfect quinoa. It should be fluffy with all the seeds popping up and falling apart like grains.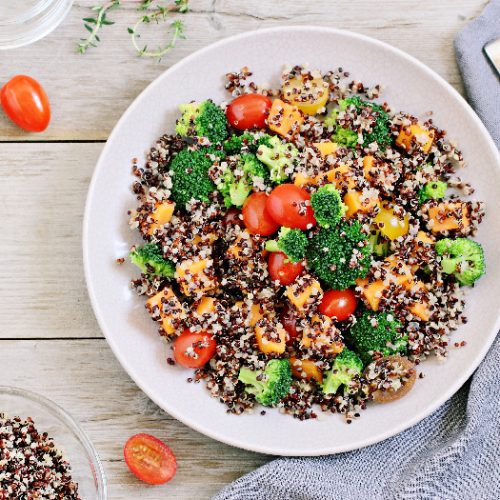 Foolproof Fluffy Quinoa Recipe
This recipe will give you fluffy quinoa that is neither too mushy nor too dry. You can make this into a salad, a meal bowl, or a pilau.
Print
Pin
Rate
[3]
[4]
Ingredients
1

cup

quinoa [5]

red, black, or golden

1 3/4

cups

water

1

tsp

olive oil

1/2

tsp

salt

or to taste
Instructions
Wash the quinoa in a fine-mesh strainer under running water. Wash the grains thoroughly, rubbing and rinsing it. This is important to take away the slight bitterness in the grains.

Heat the olive oil in a deep pan under medium-heat till just hot, but not too hot. Tip the washed quinoa and keep stirring till the water has evaporated and you have lovely toasty grains.

Add the water and bring to a rolling boil. Add salt and lower the heat. Cover the pan and let the grains cook for 15 minutes.

At the end of 15 minutes, the water should be completely absorbed. Remove the pan from heat and let it stand covered for 5 minutes.

After 5 minutes have passed, open the lid and use a fork to fluff the quinoa. The grains should separate and fluff up easily. You can serve it hot or cold as per your liking.
Notes
Washing the quinoa thoroughly is key to ensuring that there is no hint of bitterness later.
You can use vegetable or chicken broth in place of water for added flavor.
We have used slightly less than the usual proportion of water in our recipe. If you find it too dry, bring it up to 2 cups. But keep in mind that keeping the pan covered is very important in ensuring that the water is completely absorbed and has the time to fluff up.
These are our top ideas for quinoa recipes. Tell us how you like to serve it. We may not be able to taste it, but we would love to hear from you. So, leave your favorite recipe in the comments below.