If there is one good thing that can result from the combination of tomatoes, peanut butter, and kale, (a rare pairing indeed) it has to be the homely good dish – African peanut soup. Perfectly creamy and nutritious, the African peanut soup requires minimal preparation. Made with just a handful of ingredients and a delicious hot and spicy sauce (of your choice), this soup is an effortless preparation for an easy weeknight supper. So the next time you come home late from work and don't know what to cook, simply follow our recipe of this old-fashioned comfort food and you will be good to go!
How to Make African Peanut Soup?
The best part about this soup is that it is vegan and quite wholesome. Our African peanut soup recipe is easy, delicious, comforting and healthy. Most people love to add coconut milk to the soup to make it thick, but that also causes it to become calorie-dense, which is not our motive. If you want to keep the consistency of the soup thick, without compromising on the flavor then you may want to use mashed sweet potatoes instead. This will help thicken the soup and add a little more body to it. In this recipe, however, we take an even healthier route and add neither of the two options. Curious to know how? Check out the recipe below.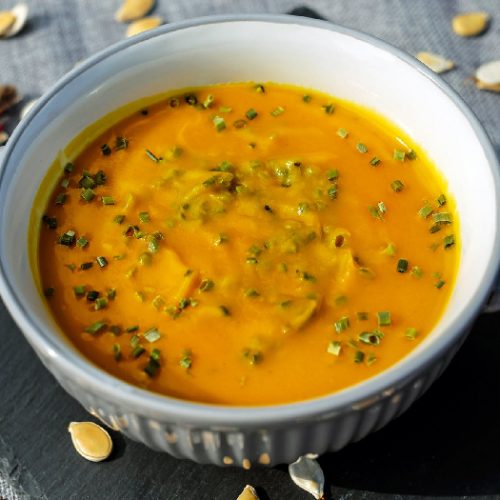 Wholesome & Delicious African Peanut Soup Recipe
Say bye-bye to your weeknight dinner woes as here's an easy vegan meal for supper!
Print
Pin
Rate
Ingredients
3/4

cup

of unsalted creamy peanut butter

1/2

cup

of tomato paste

1

pinch

of kale

(remove the ribs and chop the leaves into fine strips)

Hot sauces like sriracha sauce (quantity as per your taste)

You can use any other hot sauce of your liking.

1

medium

red onion (chopped)

4

garlic cloves (minced)

2

tbsp

of ginger properly minced

6-7

cups

of vegetable broth

salt (as per taste)

chopped peanuts (for garnishing)
Instructions
To make African peanut soup, take a medium-sized pot and pour the vegetable broth in it. Allow it to boil for some time. Meanwhile,

sauté

onions, garlic, and ginger in a frying pan till they turn light brown. Ensure that they don't burn in the process. Once done, add the

sautéd

ingredients to the vegetable broth and cook on medium-low heat for 20 minutes.

In the meantime, take a medium-sized heat-safe mixing bowl and mix together the tomato paste and peanut butter in the aforementioned quantities. Transfer 1-2 cups of the hot vegetable stock to the mixing bowl. Whisk all the ingredients properly until you get a smooth consistency and then pour the mixture into the medium-sized pot (previously containing the broth) and continue to mix well.

At this point, add the kale leaves (finely chopped) and season the soup with a hot sauce of your choice - in the quantity you want. In our recipe, we add sriracha sauce, which blends very well with the tomato paste.

Now let the soup simmer for not less than 15 more minutes on medium-low heat. While it heats, keep stirring. Once done, you can either have it as a soup or serve it as a gravy over cooked brown rice. Don't forget to garnish it with chopped peanuts as they add a delightful crunch to it.
Notes
In case you are in a hurry and don't have the resources to prepare the tomato paste, you can use canned crushed tomatoes instead. Many also like to add sweet potatoes to their soup, which is an option that you have. Likewise, you can use other green leafy vegetables if you're not too big on kale.
Connect With Us
If you have tried this recipe, we would love your feedback in the comments section below. And while we can't taste it, we would love to see how it turned out! You can connect with us on Facebook or Instagram and tag your picture with #organicfactsrecipes. [1] [2]
Do you wish to share your winning recipes with us? Please click here and fill in the details to get started.