The creamy texture and comforting taste of the classic banana pudding are the reasons why it is one of the most loved and easy-to-make desserts of all time. This dessert is particularly popular in the southern part of the US. Almost every family has its version of the recipe and there is not a single potluck, reunion, or gathering without it as a prominent fixture on the menu. So if you are looking for a dessert that is simple to put together and at the same time too delectable to resist, then the banana pudding is the sweet dish for you!
How to make Banana Pudding?
If one were to trace the origin of this dessert, word has it that it was sometime around the start of the 19th century when Southerners (as they are popularly known) prepared a custard-based pudding combined with bananas and meringue -a light mixture of beaten egg whites and sugar, which is baked until it turns crisp. Today, many have replaced the meringue with whipped cream because it is undoubtedly more convenient. In their tryst to ease the process further, people today use a combination of instant pudding mixes, a light, and airy whipped cream, or sometimes even sour cream to give the age-old dessert a contemporary spin. However, the traditional version remains the most popular. [1]
Here are a few steps to take note of while making the classic banana pudding.
This is a simple recipe only because of its easy-to-find ingredients. The dessert is made using eggs, sugar, milk, wafers, and bananas. For easy eating and serving, you require to crumble the wafers. You will also want to pay attention to the bananas as they can make or break the recipe. The right ones to choose are the perfectly ripe ones with no brown spots. You would want to pick the ready-to-eat bananas as they will break down easily over time in the pudding and will settle well in between the layers of vanilla pudding.
The ideal way of assembling the banana pudding would be to place a thin layer of vanilla pudding at first, followed by a layer of cookie crumbles, fat banana slices, and then a deep and dense layer of pudding on top. Continue this layering for another round till the pudding is still warm. Once done, refrigerate the entire pudding. If you want you can lightly place a single sheet of plastic wrap to cover the top of the pudding to ensure it doesn't form a skin. Once the pudding cools down, top it either with fresh meringue or whipped cream and some cookie crumble, if you prefer to do so.
You can serve the banana pudding in glass jars, casseroles, or bowls. While the pudding can be made in advance, take note of the fact that the recipe involves bananas which can become soggy over some time and let out a liquidy "substance " that could ruin the dessert for everyone.
Now let us look at the recipe in detail below.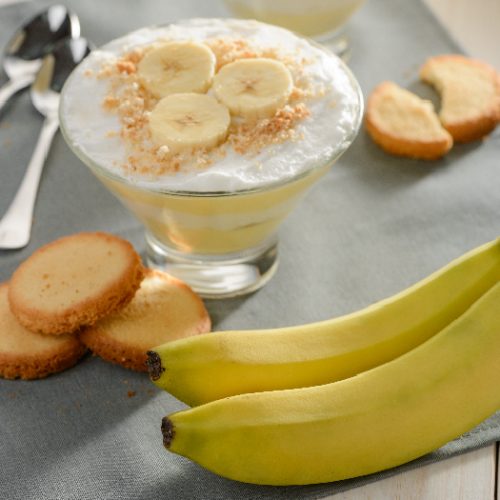 The Classic Banana Pudding Recipe
Try this easy-to-make dessert at home!
Print
Pin
Rate
Prep Time:
2
hours
15
minutes
Total Time:
2
hours
30
minutes
[2]
[3]
Ingredients
1/4

cup

of all-purpose flour

1/4

tsp

of kosher salt/salt

4

bananas (sliced)

1

cup

of granulated sugar

4

large

egg yolks

2 and 3/4

cups

of milk

3

tbsp

of unsalted butter

2

tsp

vanilla extract [4]

6

ounces

vanilla wafers (any brand)

2 and 2/3

cup

of coarsely crumbled wafers and some more for garnishing (optional)

whipped cream or meringue (as you prefer)
Instructions
To make banana pudding, in a large saucepan, mix together sugar, flour, and salt. Whisk them together till they combine properly.

Thereafter, gradually pour in the milk and whisk it properly along with the blended mixture of salt, flour, and sugar. Continue to do so till you get a smooth consistency.

Now place the saucepan over medium heat and let the mixture thicken. Allow the milk mixture to heat up, stirring it regularly, until it develops a thick 'creamy-salad-dressing' consistency. Ensure it gently bubbles for about 12 to 15 minutes and do not forget to stir the mixture during this process.

Once done, remove the saucepan from the stove where it had been heating earlier. In a separate medium-sized bowl, place the 4 egg yolks and whisk them vigorously. While doing so, slowly pour in the milk mixture. Once done, pour in the mixture into a saucepan and allow it to heat over medium heat. This time, it will have a pale yellow shade and will have a consistency of something resembling heavy cream. Keep stirring the mixture over medium heat and allow it to cook this way for two more minutes before removing it from heat.

Now add in the vanilla extract and butter to the mixture until it is properly melted and mixed. At this point in time, the mixture will resemble a salad-dressing consistency and have a darker yellow shade.

It is now time to create the first cookie layer. Sprinkle half of the coarsely crumbled wafers into a 2-quart baking dish or a 6-ounce mason jar. Over this layer, place the banana slices. Thereafter, spread a layer of the warm pudding over the bananas. Repeat this entire process of layering one more time with the remaining wafers, banana, and pudding.

Now use a plastic wrap to cover the jars individually. Ensure you directly press the plastic wrap onto the pudding so that it doesn't form a skin on top. Put the jars/glasses with the plastic wrap in the refrigerator and allow it to cool for at least 2 hours. Once done, garnish it with whipped cream or meringue, or more crumbled cookies and bananas if you so desire. Enjoy!
Notes
Ideally, you should store the banana pudding jars covered in a plastic wrap for 48 hours in a refrigerator. To postpone the browning of the bananas you can sprinkle a mixture of water and lemon juice on the bananas before adding them to the pudding.
To enhance the flavor of the pudding you can either caramelize the bananas or add chocolate shavings or shredded coconut to the pudding.
Connect With Us
If you have tried this recipe, we would love your feedback in the comments section below. And while we can't taste it, we would love to see how it turned out! You can connect with us on Facebook or Instagram and tag your picture with #organicfactsrecipes. [5] [6]
Do you wish to share your winning recipes with us? Please click here and fill in the details to get started.