One of the simplest ways to unwind after a long, tiring day is to soak your feet in warm water. If you add essential oils to the foot soak, light candles, and play some music, you have created your very own spa at home!
What is a Foot Soak?
Immersing your feet in warm water is an age-old remedy to ease body aches and pains. This is the simplest form of a foot soak or a foot bath. You can also add Epsom salts, essential oils, fragrant flowers, or moisturizing elements like coconut milk, coconut oil, or sweet almond oil for additional health benefits and for aromatherapy. Let us look at three homemade foot spa recipes.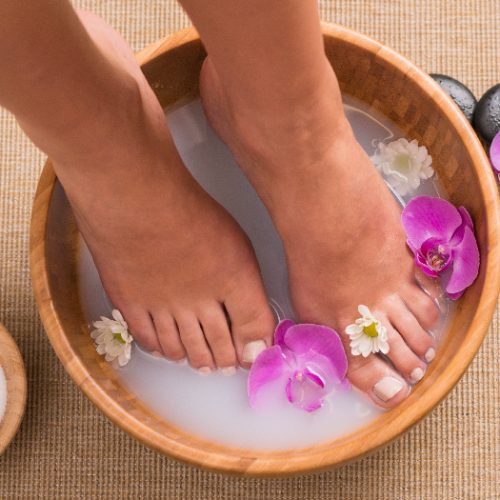 Simple Homemade Foot Soak Recipes
DIY foot soak recipes that can help you relax instantly. Create a spa-like experience at home with a few ingredients, candles, and warm water!
Print
Pin
Rate
Ingredients
Epsom Salt Foot Soak
1

tub

warm water

1/2

cup

Epsom salt

5-6

drops

favorite essential oil
Moisturizing Coconut Milk Foot Soak
Simple Foot Soak With Essential Oils
1

tub

warm water

3

drops

lavender oil

3

drops

orange oil

optional

3

drops

peppermint oil or

optional

3

drops

eucalyptus oil

optional
Instructions
Epsom Salt Foot Soak
Fill a tub with enough warm water to cover your feet. Add 1/2 cup of Epsom salt and a few drops of your favorite essential oil.

While there are no scientific studies that prove that Epsom salts help ease muscular pain, it is a folklore remedy and is used in warm water baths for relaxation and rejuvenation.

Soak your feet in the warm water for 20-30 minutes. Relax and enjoy it!
Moisturizing Coconut Milk Foot Soak
Fill a tub with enough warm water to cover your feet. Add the coconut milk and mix it well. You can even add flowers, like orchids, to the warm water.

Soak your feet in the coconut milk-infused warm water for 30-45 minutes. Once done, you can wipe your feet with a clean towel. The coconut milk helps make your feet soft and smooth.
Simple Foot Soak With Essential Oils
In a tub of warm water, add the essential oils of your choice. Lavender oil can help you relax. You can also add orange oil, peppermint oil, or eucalyptus oil to potentially help blood circulation.

Enjoy the foot soak for 30-45 minutes. You can read a book, listen to music, or simply sit back and feel your aches and pains melt away!
Health Benefits of a Foot Soak
Let us look at the science-backed health benefits of a foot soak.
Relieves Pain
Immersing yourself in a warm water bath or your feet in a warm foot bath is the best antidote to ease away tiredness. A post published by the Arthritis Foundation states that warm water therapy helps relieve all kinds of musculoskeletal pain. Bruce Becker, MD, director of the National Aquatics & Sports Medicine Institute at Washington State University (US), in the post, says that you can get the maximum benefits from a foot soak after about 20 minutes. [1] [2]
Helps Induce Sleep
A foot soak with calming scents like lavender essential oil can help ensure a good night's sleep, especially in elderly people. A 2017 report published in the International Journal of Health Sciences and Research recorded the findings of the effect of a warm water foot soak given before bedtime to 60 women who were hospitalized and had disturbed sleep. Over 80 percent of the women recorded a fair or good quality of sleep. [3] [4]
Another study published in Elsevier's Archives of Psychiatric Nursing showed that a 10-minute foot bath followed by an 8-minute foot massage helped improve psychiatric symptoms in hospitalized people with schizophrenia. The warm water foot soak helped reduce the heart rate and stress levels in the body, which in turn improve the quality of sleep. [5]
Softens Feet
A report on footcare by The British Homeopathic Association suggests that people with cracked heels can soak their feet in warm salt water for ten minutes to bring down the inflammation in the feet. Wipe the feet dry and apply a cream or ointment on the cracked heels. Shea butter, cocoa butter, and vitamin E-based moisturizers work well. [6]
Word of caution: A foot soak should be avoided by people who have extremely dry skin, eczema, or skin rashes as it may further irritate the skin. If you do have dry skin, it is best to moisturize your feet with a moisturizer. Foot soaks are not recommended for people with diabetes as foot trauma or cracks may cause infection, which may increase the risk of hospitalization. [7]