Mulled wine is as much a part of the collective standard winter 'Christmasy' culture as cozy fireplaces, warm snuggly colorful sweaters, freshly baked gingerbread cookies, and gift-giving is. This beverage, which was first created by the Romans way back in the second century, has over a while become quite a global phenomenon. Today, countries all over the world have come up with their distinctive blend and name. It is known as glühwein in Germany, vino caliente in Spain, glögg in Sweden, bisschopswijn in the Netherlands, vin brulé in Italy, vin chaud in France, candola in Chile, vinho quente in Brazil and so on.
Needless to say, everyone in the world enjoys a glass of hot wine in the winters. But what is mulled wine and how do we make it at home? Let us find out.
What is Mulled wine?
Mulled wine, also known as spiced wine, is a beverage that is typically prepared by steeping oranges and spices in red wine. The oranges help give the wine a citrusy flavor. During winter, mulled wine helps to keep the body warm. The combination of alcohol and warm spices such as clove and cinnamon adds to the warmth of the drink.
Alcohol-free mulled wine recipe: There are alcohol-free mulled wines available as well. To make alcohol-free mulled wines, simply use fruit juice instead of wine. You can also make it by boiling the mixture of red wine and spices until the alcohol has evaporated completely. These drinks are known as wassail or mulled cider.
How to make Mulled wine?
Mulled wines are usually prepared by mixing the wine with fruits, spices, and any other ingredients you wish to add to your drink. The ingredients used to make mulled wine are region-specific. Once they are added, the drink is left to simmer on medium heat, thereby allowing the flavors to properly brew. The mulled wine is then either served immediately or stored in an airtight bottle in the refrigerator. This will further allow all the flavors to seep in.
Here are a few steps that you need to take into consideration while preparing homemade mulled wine.
Let us take a look at the detailed recipe below.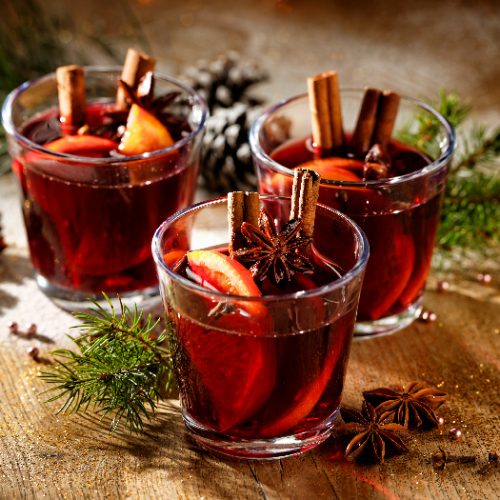 The Perfect Mulled Wine Recipe for the Holidays
Here is an easy-to-make homemade recipe to make mulled wine. Customize the drink with your favorite spices and enjoy a cozy and warm winter with this beverage!
Print
Pin
Rate
[2]
[3]
Ingredients
750

ml

of dry red wine

2

star anise

6-8

whole cloves

2-4

tbsp

honey/maple syrup/sugar

(as per your preference)

1

sliced orange
Instructions
To make mulled wine at home, add orange slices, cinnamon, cloves, star anise, a liquor of your choice, 2 teaspoons of your preferred sweetener, and wine in a saucepan and stir it properly until it mixes well.

Once you are done stirring, start cooking the wine on medium to high heat until it sort of reaches a simmer. Ensure the mixture doesn't bubble as you do not want the alcohol to evaporate. Once it almost reaches the point of simmer, lower the heat and let it cook this way for anywhere between 15 minutes to 3 hours. This is entirely dependent on how strong you want the flavor to be.

Thereafter, use a strainer to remove and discard the orange slices and the spices from the drink. At this point, taste the drink a little and feel free to add more of the sweetener if you need to.

Add some spices and orange slices as garnish. Voila! your warm 'Christmasy' drink is ready! Serve it warm or else store it in an airtight container in the refrigerator.
Other Ways to Make Mulled Wine
You can also make this drink using:
Teabags: You can replace the spices with 1 or 2 tea bags and allow it to steep for some time. It would be preferable to use a caffeine-free version.
Fruit juice: You can also add your favorite fruit juice to this wine. Cranberry and apple juices are the most common additives.
White wine: As mentioned above, we can try this recipe with dry white wine as well. It gives it a natural fruity, light, and fresh flavor.
Side Effects & Risks
Cooking with alcoholic beverages results in only some loss of alcohol content. Foods baked or simmered in alcohol can retain anywhere from 4 percent to 85 percent of the alcohol, according to a study by the U.S. Department of Agriculture's Nutrient Data lab. A standard serving of wine, according to the Alcohol and Public Health section on the Centers for Disease Control and Prevention (CDC) website, is 5 ounces (12 percent ABV). Excess intake of mulled wine can cause confusion, nausea, and rapid changes in mood. Large amounts can also cause blackouts, seizures, etc. [5] [6]
According to the CDC, people who should not drink alcohol include women who are pregnant, individuals younger than 21 years of age, and people who are recovering from alcoholism or cannot control the amount they drink. Also, it should be avoided by people who are planning to drive or any other activity that required focus and skill. [7]
Connect With Us
If you have tried this recipe, we would love your feedback in the comments section below. And while we can't taste it, we would love to see how it turned out! You can connect with us on Facebook or Instagram and tag your picture with #organicfactsrecipes. [8] [9]
Do you wish to share your winning recipes with us? Please click here and fill in the details to get started.