As soon as summer makes way for fall, people excitedly hurry to the nearest coffee shops to order their favorite autumn beverage, which is pumpkin spice latte. This is a hot drink made of a blend of espresso, steamed milk, pumpkin pie spice, sugar, pumpkin puree, and a generous garnish of whipped cream. Making pumpkin spice latte at home saves both, time as well as money, and by doing so you gain 100 percent control over what you put in your cup. Most cafes usually add spices like cinnamon, star anise or nutmeg to their drink, but you can make your own customized version sans the spices if you so prefer. So what are we waiting for? Let us get started.
How to make Pumpkin Spice Latte?
Surprisingly, the pumpkin spice latte you get at most cafes don't have an overpowering pumpkin flavor, perhaps because they avoid adding real pumpkin in the syrup. To be honest, your pumpkin spice latte flavor will depend on how you choose to make it. The best part about making it at home is that you get to customize the flavor the way you want.
If you want to go in for a healthier option, you can make use of dairy-free milk, such as almond, oats or coconut milk. You can also skip using refined sugar by adding maple syrup or honey instead. Once the pumpkin spiced milk is ready, combine it with strong coffee and voila your favorite fall beverage is ready! But, like they say, "perfection lies in the details", so let us take a look at the comprehensive recipe below.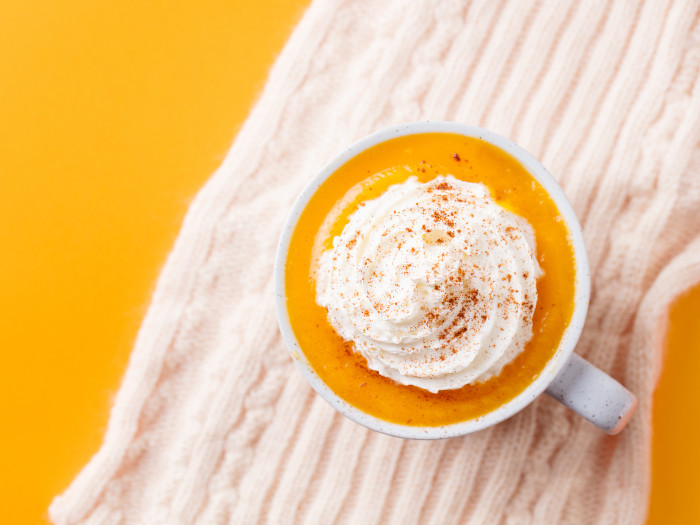 Delicious Homemade Pumpkin Spice Latte Recipe
Savor the warm spices of your favorite fall beverage by making it in the comfort of your home!
Print
Pin
Rate
[1]
[2]
Ingredients
Instructions
To make pumpkin spice latte, combine pumpkin puree, milk, vanilla extract, and pumpkin spice in a medium sized microwave safe bowl. Use a plastic wrap to cover the bowl.

Microwave the bowl till the milk becomes hot. Once done, whisk the mixture vigorously until the milk becomes foamy. This should ideally not take more than 30 seconds to a minute.

Now, in a large cup combine the foamed pumpkin spice milk and espresso or coffee. Top the latte with whipped cream and sprinkle some pumpkin pie spice as garnish.

Another alternate and perhaps an even easier way to make this beverage would be to c

ombine all the aforementioned ingredients in a blender and blend it until the resultant consistency is smooth and creamy. Once done, taste and adjust the seasonings as required. Your pumpkin spice latte is ready to be poured into a mug. You can either have it cold by adding ice cubes or heat it over the stove and have it warm.

You can add spices like nutmeg, cardamom or cinnamon powder to the latte if you prefer.
Notes
You are likely to get a slightly grainy texture if you allow the drink to rest for too long. Keep that in mind when you make this drink at home. For a caffeine-free drink, skip the coffee and add more almond or coconut milk instead. Adjust the sweetness and spices as and how you prefer. If you make use of granulated sweetener such as coconut sugar, you will have to ensure that it properly dissolves before serving.
Connect With Us
If you have tried this recipe, we would love your feedback in the comments section below. And while we can't taste it, we would love to see how it turned out! You can connect with us on Facebook or Instagram and tag your picture with #organicfactsrecipes. [4] [5]
Do you wish to share your winning recipes with us? Please click here and fill in the details to get started.