Thanksgiving is synonymous with turkey and stuffing. So, what do you do when you are a vegan and the turkey is off the table? Simple, you make new memories and a brand new dining table. In fact, now that you no longer have to live up to the mythical perfectly roasted bird, you have the freedom to pick your favorite food. It also gives you the opportunity to celebrate Thanksgiving in its true spirit, as a harvest festival. So, here are our top picks for vegan Thanksgiving recipes and options for vegan turkey.
Vegan Turkey
If you cannot let go of the memory of the perfect golden-roasted turkey for your Thanksgiving dinner, there are vegan mock-meats that you can explore. You have many options today for faux turkey with stuffing. Made with soy, wheat, and vegetables, the faux turkey alternatives can be healthier than meat. The faux meat turkey offers another advantage. Most of these come with readymade stuffing and are perfectly seasoned. So, you can cook it in a jiffy. Some of the best faux turkeys are offered by Tofurky, Gardein, Field Roast Celebration Roast, Magic Vegan Loaf Maker, the Vegan Whole Turkey by Vegetarian Plus, Harvest Celebration Field Roast, and Quorn Turk'y.
The best part about these faux meats is that these are miles away from the often tasteless substitutes of the past. Today you can get mock meats that are remarkably close to the real thing. You can take your pick of stuffing, flavor and gravies. You can roast them as you would a real bird. In fact, the Vegan Whole Turkey even comes shaped like a turkey.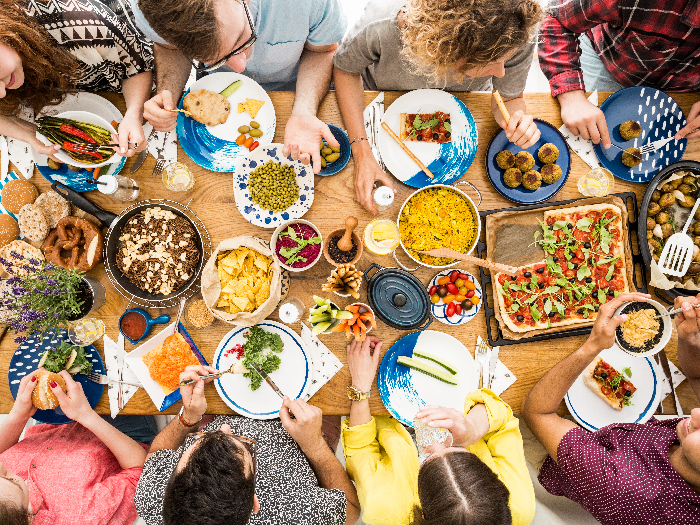 Vegan Thanksgiving Recipes
If faux meat with readymade trimmings does not interest you and you want to cook your dinner for friends and family, there are plenty of options to pick from. Instead of making the turkey (or faux turkey) the centerpiece, consider giving the same importance to a vegetable you love. Here are our top picks for vegan Thanksgiving recipes:
Roast Pumpkin with Stuffing
For this recipe, you will need a butternut squash. Cut it longitudinally in half and scoop out the seeds and some of the flesh. You can roast the seeds separately and eat it later. You can use any of your favorite stuffing here. One option is to mix quinoa, the pumpkin flesh, chopped onion, garlic, mushrooms, nuts, cranberry, dates, apricot cherries and spices like thyme, cinnamon, cloves. You can also add some spiced rum for an extra kick. Fill the stuffing in the two halves of the pumpkin, bring them together and truss. Bake uncovered for 30 minutes and then covered for a further thirty minutes. The squash skin will become a beautifully roasted red-brown and the stuffing will keep cooking within. Best of all, it is highly unlikely to dry out.
Roasted Cauliflower
The secret to a good cauliflower roast is a good spice-rub. The spice mix makes this roasted veggie delicious and bursting with flavor. For the spice mix, take harissa paste, curry powder, and any flavorless vegetable oil. You can also take yogurt instead of the harissa paste. You may have to lower the amount of vegetable oil if you use yogurt. For the roast, take a whole head of cauliflower and cut the base, so that the head can sit on your baking tray. Now turn it upside down and use one-third of the paste to apple at the base. Make sure that some of the paste goes inside the flower, penetrating its insides. Apply the rest of the paste on the cauliflower head. Roast the cauliflower for 35-40 minutes. You will know its done when a knife easily pierces the core. If the cauliflower seems to be drying up, take it out and baste with the spice mix. You can serve it with chimichurri sauce or a yogurt and coriander dip.
Vegan lentil shepherd's pie
This shepherd's pie is rich with flavor. It's also super easy to make. Just sauté chopped onion, garlic, carrot, mushrooms, and a little thyme. When these are soft, add some frozen peas along with canned and cooked lentils. You can add a teaspoon each of BBQ sauce and soy sauce for flavor. Add vegetable broth to cover up all the lentils and let it simmer till the liquid is almost over. Mash this mix lightly and put it in a pan. Cover this with mashed potato and brush the top with olive oil. Put it in the oven and bake till the top looks crusty and brown.
These easy vegan Thanksgiving recipes can be made quickly and look just as impressive as a roasted turkey. So, happy cooking and enjoy your Thanksgiving.