The Russian tea cake is an amusing example of the typical American nomenclature – a cloudy origin, multiple names, and a misleading suffix. It is neither Russian nor a cake. The only relevant part is perhaps the tea that it is often served with. Although it is more often seen around Christmas, this buttery nutty deliciousness needs no reason to be relished. Go ahead and eat one any time of the day or year.
What is Russian Tea Cake?
The Russian tea cake is a kind of pastry that is filled with nuts. It is also known as Mexican wedding cake, butterballs, Greek wedding cookies, Italian wedding cookies, Kourabiedes, and snowball cookies. These cakes are, in fact, close to cookies. Their size, texture, and method of baking are closer to a cookie than a cake. But how did we reach this ambiguousness regarding its name? How did a simple, but delicious cookie come to be associated with Mexico, Russia, and even Greece?
Interestingly, it seems to have no roots in the traditional cuisines of any of these countries. One school of thought believes that it originated in East European countries. It came to Mexico with the European nuns. Convents were where most baking took place. Perhaps, the association with weddings also started with these origins. In the US, its name evolved simply because it was served with Russian tea.
How to Make Russian Tea Cake?
The recipe for the Russian tea cake is incredibly easy. It's just a matter of assembling the ingredients and mixing them. These buttery balls of goodness have just the right nutty crunch. To get the perfect cakes, here are a few tips you can follow:
You can chop the nuts with a knife. But that would take time. Instead, just place them in a sealed plastic bag and bash with a rolling pin.
Make sure that the nuts are chopped very fine. It will ensure that the dough holds together properly.
This recipe is easiest to do on a stand mixer. If you are doing it manually, it may take just a bit more time and elbow grease.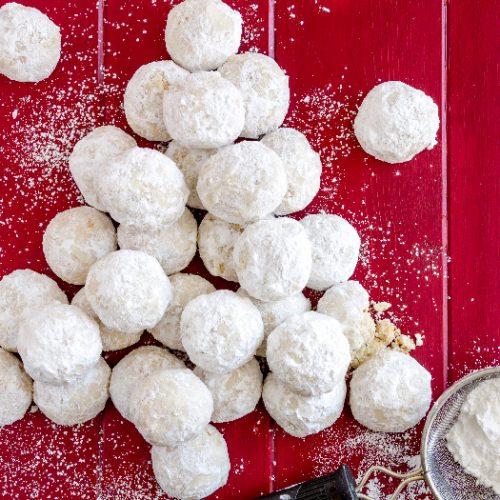 Russian Tea Cake Cookie Recipe
Full of buttery and nutty goodness, the Russian tea cakes have a crumbly texture. The cookie cakes are incredibly easy to make and just as easy and delicious to finish.
Print
Pin
Rate
[1]
[2]
Instructions
Heat the oven to 375-degree Fahrenheit.

In a stand mixer, beat the sugar, butter, and vanilla together till it gets fluffy and airy.

Add the flour, finely chopped nuts, and salt and let it all come together. Let the mixer run till you have cohesive cookie dough. This may take some time. If the dough seems too soft, chill it in the fridge for about 30 mins.

Use a tablespoon or an ice-cream scoop to shape 1-inch cookie balls. Place them 2-inches apart on an ungreased cookie sheet.

Bake for 8-9 minutes or till the cookies are set, but not brown.

Take them out while they are still hot and roll them in the powdered sugar.

Let the cookies cool on a wire rack. Once cool, roll the cookies in powdered sugar again and serve.
Notes
This is a versatile cookie recipe. You can add lemon zest to give it a citrusy zing. If you don't like nuts, go ahead and use chocolate chips.
How to Store Russian Tea Cake?
Store the cookie cakes in an airtight container and keep them in a cool, dry place. Although these cookies finish incredibly fast, if your batch lasts for more than 3-5 days, we recommend storing these in the fridge. These cakes also freeze very well. When you want to eat them, just take them out and allow them to thaw. You may want to roll them again in powdered sugar.
You can serve these tea cakes with Russian tea. Check out our easy recipes for the tea. You can make it from scratch or with Tang. We would love to hear how your cakes turned out. So, share your experience and tell us about your tea time treats.