The sourdough bread is often seen as the Holy Grail of bread making. I know bakers who will not take you seriously till you've made at least one of these lovely crusty loaves. Committed bakers will treasure their bubbling starter dearer than life, carefully nurturing it year on year. It is no wonder then that sourdough bread is suddenly trending again. You only need a bite of this wonderfully unique bread to understand why it is so popular and why it's a love that stays for life.
What Is Sourdough Bread?
Sourdough bread is believed to be one of the oldest baked bread. It is made by the fermentation of dough using wild yeast which is present all around us. In Flour and Breads, the author calls it a primordial form of bread leavening. Some people believe that it originated in Egypt in 3000 BC, spreading from there to Ancient Greece and then to the Roman Empire. The production of sourdough bread started waning after the discovery of other more reliable forms of yeast that did not need the long fermentation process. Industrial bread making which used commercial yeast finally replaced it with the ready-packaged breads that we find today. [1]
And yet, the popularity of sourdough bread refuses to die. There are artisanal bakeries that have treasured their sourdough starter for decades. What makes it unique is the absence of yeast. Instead, it uses a live culture, known as a sourdough starter, as a leavening agent. It also gives this crusty loaf its characteristic complex flavor. Despite the name, it's not sour. Rather it has that perfect tanginess that can range from mild to sharp. It's a lovely complex flavor that can carry anything, from the comfort of a buttered toast to the lavishness of cream cheese topped with bacon.
How to Make Sourdough Bread?
Despite its reputation, sourdough bread is quite easy to make. The trick lies in letting it hydrate. This is why we let the dough rest twice. As with any other bread, you will get better with practice. I have discovered that making sourdough bread is the end where you may have an occasional pitfall, but it's the journey that matters. Along the way, you will develop an instinct for the flour and how it behaves.
A note about ingredients and equipment:
Sourdough starter: For many people, this is the real star of the show, the ingredient that gives sourdough bread its character and magic. You can make a sourdough starter from scratch by following our recipe here. Alternatively, you can also check with your local bakery if they can give you some. Many artisanal bakeries also sell the starter online.
Flour: Bakers usually prefer bread flour because of its high protein and gluten content. Many people prefer whole-grain flours because these are healthier and contain more minerals. These flours will also give your bread a nice rise. Avoid bleached flours with chemical additives.
Water: Tap water works fine when making the dough. But in case your tap water has a high quantity of chlorine or other chemicals, it is best to stick to filtered or purified water.
Salt: It isn't one of the main ingredients and not one you will even think of, but it is pretty important in the flavoring of the bread. It also acts as a preservative. A sourdough bread needs slightly more salt than usual.
Proofing basket: The proofing basket gives the dough its distinct spiral lines. No, you don't have to splurge and buy a proofing basket. The mixing bowl will do just as well for letting your dough rest. But if you are a keen baker and see yourself doing this for the long-term, you may want to buy these distinct baskets.
The pot: Bread needs steam during baking. Without it, the crust will form too soon and you will get a heavy and dense loaf. This is why a sourdough bread should be baked in a pot. You can use a deep casserole dish, a loaf pan, or the dutch oven. The latter is usually the pot of choice because it traps the moisture.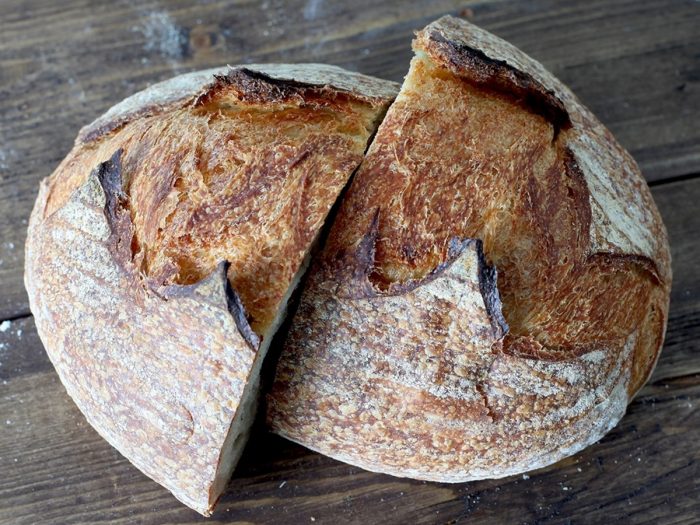 Sourdough Bread Recipe
The sourdough bread may take a little time, but the rewards are rich. Read the recipe carefully before beginning.
Print
Pin
Rate
Cook Time:
1
hour
10
minutes
Total Time:
1
hour
34
minutes
[2]
[3]
Ingredients
500

gm

bread flour

plus, for dusting

2 1/4

tsp

salt

250

ml

warm water

preferably filtered

2

tbsp

olive oil

150

gm

sourdough starter
Instructions
Before you want to start, make sure your starter is active. To check, drop a small teaspoon of the starter in a cup of water and if it floats, it's ready to go. Make sure all your ingredients are at room temperature. If the starter was in the fridge, you may want to take it out well in advance.

To make the sourdough, add the water, starter, and the olive oil in a large mixing bowl and whisk lightly. Add the flour and salt to this wet mix and bring everything together with a spatula. You will get a shaggy dough.

Cover the bowl with a kitchen towel or a plastic wrap and let your dough rest for at least 30 minutes. This is known as the autolyze stage when the dough absorbs the water absorbs water. The proteins and starches in the flour start to break down.

Now comes the folding stage. This is when you work the dough at regular intervals. It can also be seen as the bulk fermentation stage. To start, remove the wrap and start 'stretching and folding' the dough.

To fold the dough, grab it on one side, stretch it upwards and fold over the top. Rotate the bowl by about a quarter of a circle and repeat the action. Keep doing this till you come a full circle. Try and space out each fold about 30 minutes apart, letting the dough rest covered with a kitchen towel in between. The shaggy and wet dough will become smooth and tighten up.

After folding, let the dough rest in a warm and dry place. This will take anywhere from 3 to 12 hours. We recommend letting it rest overnight so that you have the dough ready to work in the morning. It will increase in volume by almost double or slightly less than that.

At the end of this period, prepare your workspace by lightly dusting it with flour. Take out the flour from the bowl on to your counter. Use a bench scraper to cut the dough in two or more parts, depending on how big you want your loaves.

Now start shaping each portion. Work on a non-floured surface. Take one side and fold the top towards the center. Give it a slight turn and fold another section. Keep going till you reach a full circle. Flip the dough so that the seams are now at the bottom. Using your hand, gently rotate the dough with a slight cupping action at the bottom so that you have a round-shaped loaf that has a smooth surface.

Prepare your loaf tin or dutch oven by covering the bottom with flour. Alternatively, use a parchment paper. Place the prepared dough in the bowl. Let it rest for at least an hour. You can also use a proofing basket for this step. In that case, liberally flour the basket and transfer the dough to the dutch oven/loaf tin before baking.

Before putting it in for baking, preheat the oven to 450 degrees F. Before putting the bread in for baking, make sharp slashes on its surface. You can use a sharp knife or a bread lame. I've even known a chef to use a special razor he keeps for just this purpose!

Cover the baking dish, reduce the temperature to 400 degrees, and put the bread in for baking. After 20 minutes, remove the lid and bake the bread for an additional 40-50 minutes or till it has the trademark brown crust.

Open the oven door slightly in the last 10 minutes of baking. When the bread is done, take it out of the pot using spatulas and let them cool completely. It is important that you let this cool for at least an hour.

Your lovely delicious sourdough bread is ready. Enjoy a sliced toast with butter and tea!
Notes
You may need more water while kneading if you are using whole grain flour, about 300-325 ml in all. Use a liberally floured cloth-lined bowl instead of the dutch oven for the second rise. Make sure that it is very liberally floured.
Is Sourdough Bread Gluten-Free?
A common misconception about sourdough bread is that it is gluten-free or at the very least safer than commercially available yeast bread for people with gluten intolerance. A 2010 research published in the Journal of Pediatric Gastroenterology and Nutrition found that sourdough wheat-baked goods, where the gluten is completely degraded, are not as toxic for people with celiac disease. However, this claim has since been contradicted by several authorities, including subsequent research. The website Gluten Free Watchdog tested three sourdough bread brands and found that it was not safe for people with celiac disease. [4] [5] [6]
Is Sourdough Bread Healthier Than Commercial Bread?
Homemade sourdough bread is definitely healthier than commercial bread. In fact, the average bakery-bought sourdough bread is also likely to be healthier than other breads. This is because it uses only two ingredients – flour and water. There are no chemical additives. Since it can be made with many wholemeal flours, it is also a healthier alternative to white bread flour.
It is more beneficial than commercially available bread for people with diabetes. Research published in the journal Acta Diabetologica showed sourdough-leavened bread improved postprandial glucose and insulin plasma levels. Hence, it can benefit people with impaired glucose metabolism. [7]