If you are hosting a gathering and are expected to put some appetizing delicacies on the table, a spinach artichoke dip is the easiest recipe to start with. The cheesy dip carries the nutrition of spinach in a rich, cheesy flavor. An ideal accompaniment to a range of bread and chips, the dip is a game night favorite. So, if you are looking to serve some easy appetizers leading to a rich main fare, or are taking it easy with our favorite friends, this is the recipe to start with.
How to Make Spinach Artichoke Dip?
One of the first things you will require to get started on your spinach artichoke dip is artichoke hearts. You can certainly opt for canned ones if they are easily available or if you are making a large batch. It is also recommended to try fresh artichoke hearts if you don't mind the extra work of boiling and cutting.
While some recipes call for canned or frozen spinach, we would suggest you use fresh leaves for this recipe, unless they are not easily available. Spinach is easy to work with. Moreover, the fresh leaves offer a richer taste as well as nutrient profile.
Lastly, one of the most important things you are going to need for this spinach artichoke dip lies beyond the ingredients. It won't be the best idea to put this up for a one-person movies-and-chill session. Gather around a party who'll enjoy some good food and add this dip to the first course of your menu to set the tone right.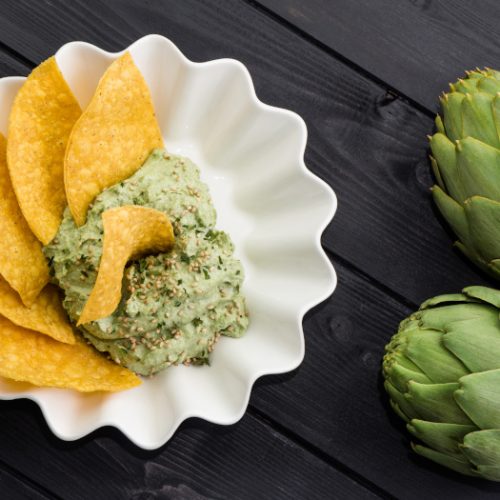 Spinach Artichoke Dip Recipe
One of the most popular dip recipes for parties and game nights, this spinach artichoke dip melts the nutrition of vegetables in its cheesy flavors. This makes it a perfect hot dip that goes well with everything from chips to toasted bread.
Print
Pin
Rate
[1]
[2]
Ingredients
400

gm

artichoke hearts

roughly chopped

400

gm

spinach leaves

1

stick

butter

4-7

cloves

garlic

finely chopped

1

cup

parmesan cheese

grated

1

cup

cheddar cheese [3]

1

cup

whole milk [4]

basil leaves

optional

salt

to taste

pepper

to taste
Instructions
To start with your spinach artichoke dip, place a saucepan on medium heat and add butter to this.

Add the finely chopped garlic cloves to the butter and saute them for about a couple of minutes. Do not let the butter burn.

Quickly toss in all your artichoke hearts and give them a nice toss in the butter.

Next, toss in chopped spinach leaves and toss them till you see them wilt and reduce. This should take a couple of minutes.

Once the artichokes have imparted their flavor to the butter, which should not take more than a few minutes, slowly pour in the milk. Keep stirring the milk so it does not coagulate at the bottom of the pan.

When the milk starts to come together with the other ingredients in the pan, start adding parmesan cheese, followed by cheddar cheese. Keep stirring them in so they do not form lumps.

At this stage, you can also add roughly chopped basil leaves for flavor if you like. Keep stirring the mixture till the cheese melts and you achieve a semi-solid consistency.

Add salt and crushed black pepper as required. Optionally, you could also add a dollop of sour cream at this stage.

While this looks appetizing enough, your dip is one step away from done. Transfer the mixture to a bake-safe tray and garnish it with as much or as little parmesan cheese as you like.

Broil this for 4-5 minutes, or till you see the top layer of the cheese melt. Take it out and rest it for a couple of minutes. Your spinach artichoke dip is ready to serve.
Notes
If you are reheating this spinach artichoke dip, try reheating only the required amount.
Some of the best vehicles for a hearty helping of spinach artichoke dip include:
Toasted bread
Crackers
Nachos
Chips
We love the idea of this dip for a party. Which are your favorite dips? Do you have any special recipes you want to share? You can submit your recipes through our recipe submissions page here.