If you think healthy and tasty can't walk hand in hand, this mouthwatering spinach pasta is going to bust that myth for you. It is absolutely easy to make. The beauty of this pasta is such that you can prepare it on days when you feel like putting together a quick lunch for your kids or you can pair it with red wine for a dinner party.
How To Make Spinach Pasta?
You probably know the drill. Boil the pasta, saute and mix the veggies, add butter and/or cream, and there you go. But what makes a dish worth remembering is minute details like the perfect crunch of the nuts, the tenderness of pasta, and many other things. So, take a look at these tips and suggestions to create a drool-worthy pasta!
Pasta: While we have used penne here, you can try making a spinach pasta with spaghetti, farfalle, or any other type of paste you like.
Veggies: Kids generally don't like the idea of greens on the plate. So, if you want to hide the spinach leaves from the pasta, puree blanched spinach and add it to the pasta. Also, feel free to add other veggies like broccoli, zucchini, tomatoes, and avocados if you like.
Cheese: We have used ricotta cheese in this recipe. If you are not a fan of the gritty texture it has, go for any other variety you like. You can skip adding cheese in the cooking and top the pasta with grated parmesan.
Butter: Butter makes the pasta creamier and better. However, if you are seeking a healthier alternative, olive oil is a good option.
Nuts and seasoning: Toasted nuts add a crunch to pasta. So, go ahead and add your favorite nuts to it.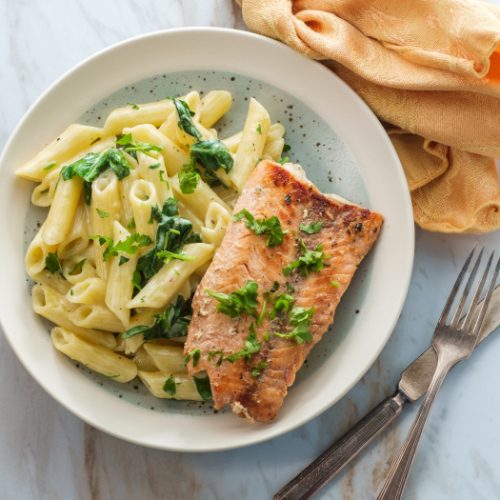 Ingredients
1

lb

penne pasta

1

lb

spinach

1

cup

ricotta

1

cup

heavy cream

4

tbsp

butter

unsalted

3

cloves

garlic

3

tbsp

pine nuts

optional

pepper

to taste

salt

to taste

1

tbsp

olive oil
Instructions
To start with, add ricotta to a bowl and season it with salt and pepper. Keep it aside for now.

Bring a large pot of water to boil. Add olive oil, stir it and then add pasta to it. Let it cook for about 8-10 minutes until it becomes tender.

Now, carefully drain the pasta in a colander and keep it aside. Reserve one cup of pasta water so that you can use it to make the sauce.

While the pasta is cooking, you can start preparing the sauce. Start with toasting the pine nuts if you want to add them to your pasta.

Take a large skillet or a saucepan and add the nuts to it. Cook them on medium heat, stirring occasionally so that they don't burn. Once they are ready, transfer them to a small bowl. You can opt-out of this step if you are not adding pine nuts to your pasta.

Now add butter to the same pan or skillet and let it melt over medium heat. Add minced garlic and saute it until it turns golden brown. This will take about 2 minutes.

As soon as the garlic is done, add spinach to your pan. Mix it properly so that all the leaves get enough heat. You can also add the pasta water at this stage to help the spinach wilt.

Sprinkle salt on the sauce now. Then add heavy cream and stir it well. Cook until the sauce becomes thick and then you can add more spices like pepper and salt if you want.

Now, add the pasta to this sauce and toss until all the pasta is covered with sauce.

Stir and cook for a minute if you feel like the sauce is not thick enough. If it is good to go, then turn off the heat and add ricotta to it. Mix it well and season the pasta again if you want.

Serve it on a plate and top with toasted pine nuts. You can garnish it with one or two basil leaves.
Notes
You can serve the pasta with grated Parmesan cheese. It helps to make the dish tastier.
Serving Ideas
You can pair this amazing pasta with many dishes. Here are our favorites:
It is a versatile dish. So, don't hesitate to give it your personal touch! We would love to know how you customized your pasta. So, post your pasta recipe and tag us on Instagram or Facebook!