Although there are many differences between steam rooms and saunas, these two relaxing spaces provide the similar health benefits.
Steam Sauna
A steam sauna is a type of sauna that is heated by steam, as opposed to infrared heating. A sauna has a vent in the room that lets out steam and limits the humidity of the room, unlike a steam room, which allows the steam to stay, thus reducing the overall temperature.
Steam Rooms Vs Saunas
Although you might hear the terms used interchangeably, there are clear differences between steam rooms and saunas.
Temperature: Sauna are hotter than steam rooms – usually between 160 and 200 degrees Fahrenheit. The maximum heat of steam rooms is around 110 to 120 degrees, but they can often feel hotter than that due to the humidity.
Humidity: Steam rooms have 100% humidity. Saunas, on the other hand, have a vent built into them to let the moisture out and fresh air in, making for a much drier kind of heat.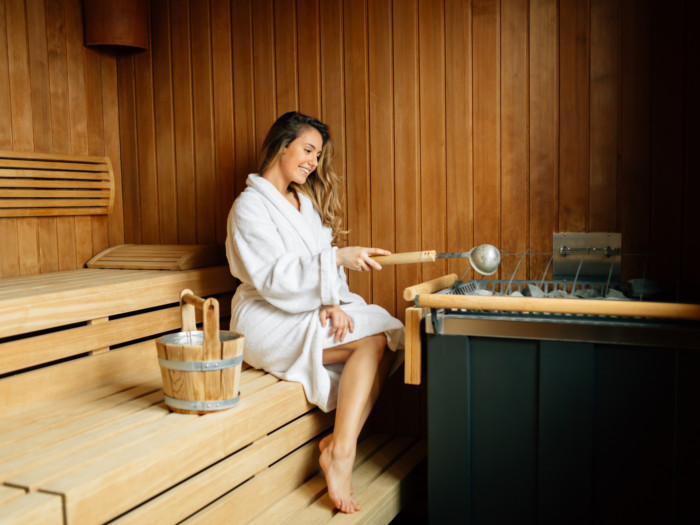 Materials: Saunas tend to be built out of wood, as wood stays cooler in very hot conditions, and withdraws moisture from the air. Steam rooms are clad with non-porous materials, such as tiles, plastic and metal that will last longer in wet conditions.
Benefits: Steam rooms are considered more beneficial for people with lung and chest-related

disorders

, as the steam can help clear out those areas of the body. The dry heat of saunas is better suited for muscle issues and joint-related conditions, such as arthritis.
Steam Sauna Benefits
There is a range of health benefits to be gained from spending time in both steam rooms and saunas, and many of the benefits are the same for both styles of hot rooms.
Possible Side Effects
It is best to avoid saunas and steam rooms if you have a fever, are pregnant, have recently undergone surgery, or have heart problems or high blood pressure. Listen to your body and leave the room for a break at regular intervals – start at five-minute slots and build up from there. Stay hydrated and ensure that the rooms are at the recommended temperature – they need to be hot enough to kill bacteria.