Sweet tea is a popular summertime beverage, particularly in certain parts of the United States, but there are some nutritional factors that you should consider before pouring yourself a glass.
What is Sweet Tea?
Quite simply, this is a type of black tea that is combined with sugar while the beverage is still hot, and is then allowed to cool. This beverage is typically served over ice and has a delightfully sweet taste that doesn't completely overshadow the flavor of the tea. This tea can be further flavored or sweetened, depending on the manufacturer, but plain sweet tea has now become an extremely common beverage in certain parts of the world. While it may still be considered more nutritious than some sugar-rich sodas, the amount of added sugar in this drink can be quite high. [1]
Sweet Tea Nutrition Facts
In terms of nutrition, sweet tea has very few nutrients aside from what is already present in normal tea, including vitamins, flavonoids, and other antioxidants, as well as a decent amount of carbohydrates, primarily due to the presence of sugar. It also contains caffeine, polyphenolic compounds, and catechins. On average, a cup of sweet tea has about 75 calories, but this could increase significantly if more sugar is added.
How to Make Sweet Tea?
Making your own sweet iced tea is easy, but don't overdo it on the sugar if you want to sip on this drink all summer!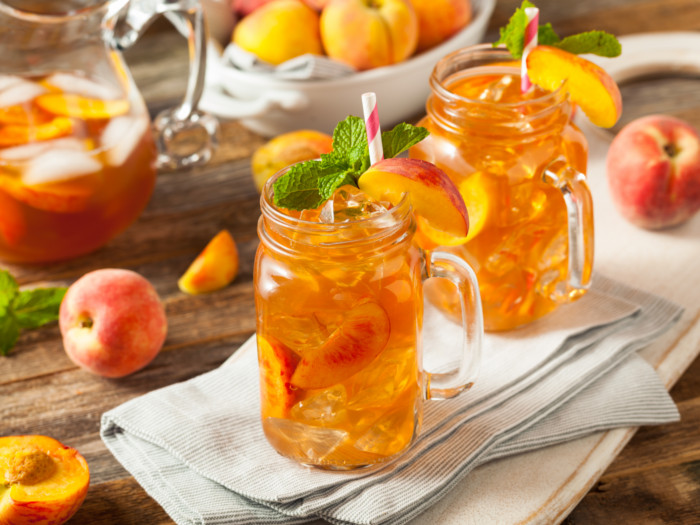 Southern Smooth Sweet Tea Recipe
This southern sweet tea is like a sweet glass of sunshine. Enjoy it on a hot sunny day.
Print
Pin
Rate
Steeping Time:
15
minutes
Ingredients
2

cups

water

hot and

4

cups

cold water

6

tea bags

3/4

cups

white sugar
Instructions
Bring 2 cups of water to a boil.

Place the tea bags in a large teapot or saucepan.

Pour boiling water over tea bags and allow the mix to steep for 15 minutes.

Remove tea bags and pour into 3/4 cups of white sugar.

Pour in 4 cups of cool water.

Stir thoroughly until all the sugar dissolves.

Store this tea in the refrigerator for 1-2 weeks.
Is Sweet Tea Good for You?
Sweet tea has a number of pros and cons, mainly based on tea being healthy and sugar being potentially dangerous. In terms of cancer prevention and heart health, black tea is known to be quite healthy and beneficial. Tea can also give you an energetic boost thanks to the caffeine present. However, a high concentration of sugar and calories in this tea can be problematic for diabetics and potential weight gain. Therefore, you should either closely moderate your intake of sweet tea or prepare it with less sugar, if you want to drink it often and still consider it a "healthy" drink. [2] [3]