I am here to talk to you about one of my all-time favorite desserts. The simple but tasty Swiss Roll. My story with the Swiss roll began when I was 12 years old. The Christmas holidays have always been special to me as I spent most of my school years in a Catholic school in Baroda. And although the festival and the holiday season were reasons enough to cheer, it was made extra special because my father's birthday happens to be on the 23rd of December which falls bang in the middle of the holiday season. And so the year I turned 12, I insisted that we all got ourselves some Christmas desserts to celebrate!
My dad drove me to the only 5-star hotel that we had in our town back then in the mid-90s and I marched into the bakery section. I was blown away with the range of sweet treats that they had on display. But one thing that caught my eye, was this beautiful cake dessert with swirly patterns- the beautiful Swiss Roll. I had one taste of it and I knew then that I had found something special. And since then it became a ritual. Every year we would celebrate my dad's birthday and Christmas with a Swiss Roll. After I moved out, I lived in many places around the world. However, one thing remained constant. From Mumbai to Paris to London, I have always traveled back to Baroda for the Christmas holidays and we have always had our Swiss roll as a family to celebrate this special time.
And so the other day when my mother in law who lives in Dublin sent me the photos of her quarantine baking and I saw that she had baked this delectable sweet treat, I was ecstatic and nostalgic at the same time. I immediately asked for the recipe and here's my attempt at baking this most special of desserts which bring back so many special and happy memories for me. I hope you enjoy this recipe as much as I have enjoyed this over the last 2 decades of my life.
How to Make Swiss Roll?
Follow this simple recipe to make delicious swiss rolls at home.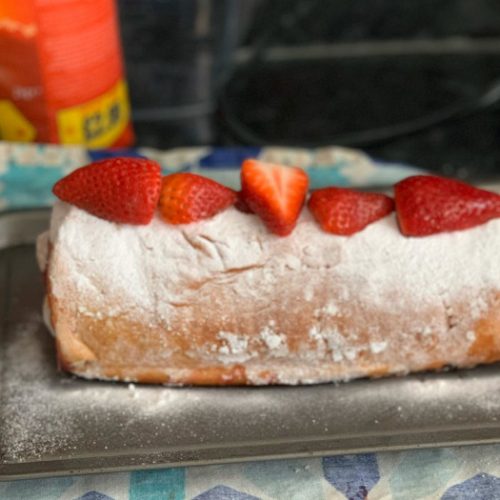 Deliciously Moist Swiss Roll Recipe
A bite of this melt-in-the-mouth-good dessert is all you need to brighten up your day!
Print
Pin
Rate
[1]
[2]
Ingredients
Butter to grease

2

large

eggs

50

grams

caster sugar

plus extra 2 tbsp to dust

50

grams

self-raising flour

sieved

100

grams

strawberry jam
Instructions
To make a swiss roll, first, beat the eggs and sugar together for 5 mins with an electric hand whisk until thick and pale.


Gently fold in the flour in two batches using a large metal spoon.


Meanwhile, heat oven to 180C/160C fan/gas

Grease and line a 16 x 28cm Swiss roll tin with baking parchment.

Pour the mixture into the tin and gently ease into the corners.

Bake for 10-12 mins until golden and firm. Be careful not to over-bake, or the sponge will break when rolled.

While the sponge is baking, sprinkle 2 tbsp sugar over a square of baking parchment.

Turn the baked sponge onto the sugared paper. Peel off the lining paper and roll it while it's still warm. This is the most important step as this makes sure that the sponge doesn't break when it's being rolled. Rolling when it's warm ensures that the sponge retains the muscle memory of being rolled up.

Let it cool down in it's rolled form.

Once it is cooled, unroll it and spread the jam and roll it back up.

Let it set in the refrigerator for an hour.

Cut the slices up and lo and behold you have it ready!
How did you find this recipe? While we may not get to taste the outcome, we would surely love to read about your experience making it in the comments section below. Also, if you have another way of making this recipe, please do share it with us here.