Tea tree oil is one of the most effective natural remedies for yeast infections. While yogurt, garlic, and sugar elimination are common remedies for yeast infections, tea tree oil ranks high on the list of the quickest ways to heal this troublesome problem.
Yeast infections occur when there is an imbalance of good and bad bacteria in the body, which leads to the growth of a microscopic fungus called Candida albicans. While vaginal yeast infections are the most common kind, it can also develop under skin folds, under the breasts, in the digestive system, in the lower abdomen, and in our nail beds.
How To Use Tea Tree Oil For Yeast Infection?
There are many tea tree oil and carrier oil blends that can be used to treat a variety of yeast infections on the skin. Let's look at the most popular treatment methods.
Tea Tree Oil Bath
A common remedy for yeast infections is a tea tree oil bath. You can make your own tea tree oil bath in the following way:
Step 1: Fill your tub with warm water.
Step 2: Put a few drops of pure tea tree oil into the water. (You can use up to 10 drops of the oil depending on the sensitivity of your skin)
Step 3: Soak in the bath for 5 minutes. Tea tree oil can cause a burning sensation. If you feel any irritation, step out of the bath immediately.
Step 4: If you do not feel any burning sensations, you can stay on in the tub for 10 additional minutes.
Step 5: Rinse yourself and dry your skin.
Step 6: Apply ozonated olive oil directly on the affected areas on your skin. You can also apply pure coconut oil.
Note: If you do not have access to a tub, you can soak a towel with the tea tree oil bath water, remove the excess water, and apply it on the affected areas.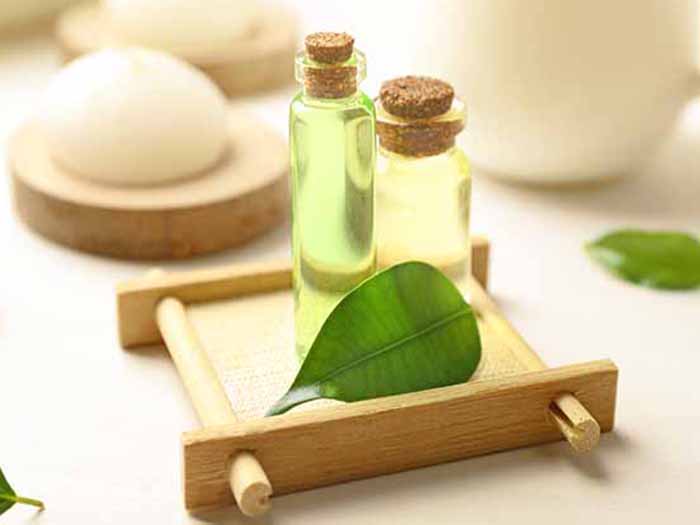 Tea Tree Oil & Coconut Oil Blend
The recipe for a homemade cream using tea tree oil and coconut oil involves the following steps.
Step 1: Mix 2 drops of tea tree oil with 1 tablespoon of pure coconut oil.
Step 2: You can apply this directly onto affected skin areas 2-3 times a day.
Step 3: You can also add 3 drops of lavender oil or 1/2 tablespoon of ozonated olive oil to further increase the

antibacterial

properties of the oil blend.
Tea Tree Oil For Vaginal Yeast Infection
For vaginal yeast infections, the procedure involves inserting suppositories or tampons made with tea tree oil blends into the vagina. One of the most common blends includes blending a couple of drops of tea tree oil and three drops of lavender oil with 1 tablespoon of pure coconut oil and freezing it. This frozen oil blend is then inserted into the vagina. The oils melt due to the warmth of the body, inhibit the growth of bacteria, and help heal the skin. However, there have been reports of excessive burning sensations caused due to the tea tree oil. It may be safer to use an ozonated olive oil tampon as a natural remedy for vaginal yeast infection.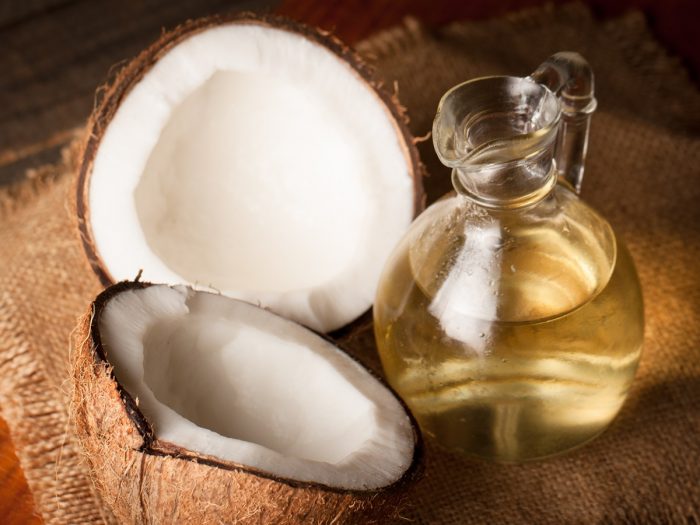 Tea Tree Oil For Male Yeast Infection
Tea tree oil and coconut oil blend (recipe given above) can be directly applied to the affected sensitive areas twice a day.
Benefits of Tea Tree Oil For Yeast Infection
Tea tree oil contains terpinen-4-ol which helps in eliminating the fungus that causes yeast infections. The oil has antimicrobial, antifungal, and antibacterial properties which all help treat yeast infections and heal wounds. According to a study, researchers found that tea tree oil for yeast infection was an effective treatment as the oil could inhibit Candida albicans, including 14 other drug-resistant bacterial strains.
Tea tree oil, in diluted form or when blended with a carrier oil, helps in the following ways:
Reduces itchiness and inflammation
Prevents bacterial growth
Heals damaged tissues
Helps restore the balance of good and bad bacteria
Side Effects of Tea Tree Oil For Yeast Infection
Tea tree oil can have serious side effects and it is best to start by testing a little amount of the chosen tea tree oil blend on your hand before using it on sensitive parts of your body. The most common side effects include:
Toxicity: If taken orally, tea tree oil can be poisonous and it is recommended that it should not be used in and around the mouth.
Allergic reaction: Tea tree oil can irritate the skin or cause an allergic reaction if not properly diluted or blended.
Burning sensations: Some people feel excessive burning sensations in the vaginal area when they use tea tree oil blends for vaginal yeast infections. Remember to test a diluted drop on your skin before using it as a treatment for vaginal yeast infection.
Word of Caution: Pregnant and lactating women should avoid using tea tree oil blends for safety reasons. Also, it is advised to consult a medical professional before diagnosing itchiness and skin rashes. Always check with your doctor before applying essential oils topically, especially in the sensitive areas of your body.