Turmeric is a globally popular spice, but turmeric milk is a valuable and potentially beneficial beverage that many people don't even know about. Packed with nutrients and capable of affecting health in many different ways, it is important to understand everything this popular beverage can do.
What is Turmeric Milk?
Turmeric milk, as the name implies, is an infusion composed of dried turmeric root or turmeric powder mixed with milk to create a delicious, golden beverage. In fact, this traditional Indian tonic is often called golden milk tea. While the taste is slightly bitter, the milk tends to remove most of the spiciness from the turmeric. This beverage is formally known as Haldi Ka Doodh, and is usually made with only turmeric and milk, but may include cardamom powder, ground ginger, and pepper or cloves, making the drink even more beneficial to health. [1]
Benefitting from the antioxidants and active ingredients in turmeric, as well as the mineral components of milk, this is one of the best beverages to use as a general tonic for the body.
Turmeric Milk Benefits
The most notable benefits of turmeric milk include boosting skin health, soothing digestive problems, promoting weight loss, and protecting the respiratory system. It is also known for reducing the risk of cancer.
Skin Care
Thanks to its antioxidant content, drinking turmeric milk can provide a major boost to skin health, with protective antiaging effects. Additionally, applying turmeric milk directly to areas of inflammation or irritation is even more effective for conditions like acne, psoriasis, alopecia, radiodermatitis and more. [2] [3]
Aids in Digestion
As an antiseptic and antibiotic substance, the curcumin in this popular beverage can help to relieve inflammation in the gut and promote healthy digestion, particularly by relieving indigestion, soothing cramping and bloating, and improving the bacterial balance in the gut. It even helps the body digest fats through stimulating bile production and excretion, as per a study published in the Archives of Applied Science Research in 2008. [4]
Weight Loss
Turmeric is known to help prevent adipocyte differentiation, which basically means it discourages the formation of fat cells within fatty tissue. This will help prevent further weight gain and aid in weight loss efforts, as per a research published in the International Journal of Chemical Engineering and Applications. [5] [6]
Alleviates Respiratory Problems
According to a review article published in the journal BioMed Research International in 2014, the antibacterial and antiviral properties of this beverage can help eliminate any pathogens or infectious agents that are attacking your body. Additionally, inhalation of turmeric volatile oil has been shown to remove excess mucus, relieve cough and prevent asthma. [7] [8] [9]
Reduces Inflammation
This hot beverage is able to relieve inflammation throughout the body, from the stomach to your joints and muscles. Curcumin, the active ingredient in turmeric, is known to be an effective anti-inflammatory substance that can reduce oxidative stress and unnecessary immune system responses. [10] [11]
Anti-Carcinogenic Properties
Turmeric milk is an effective anti-cancer alternative medicine that has gained popularity over recent years. Amanda Hutchins-Wolfbrandt, School of Health Sciences, Eastern Michigan University, Ypsilanti, USA, conducted a study that linked curcumin to a reduction in cancer, due to its powerful classification as an antioxidant. According to the study, it is able to seek out and neutralize mutation and oxidative stress causing free radicals, which lead to chronic diseases like cancer. [12]
Curcumin is known to help stimulate apoptosis (cell death) of certain cancer cells, decrease cancer cell survival, metastasis (spread) and proliferation and more, thereby arresting the further spread of the disease, according to research published in the journal Cancer Letters in 2008. [13]
Supports Liver Health
Turmeric milk has long been used as a detoxifying agent for the body, particularly for the liver, as per a paper published in the journal Clinical Nutrition Insights. In some animal studies, turmeric extract was shown to be protective against drug-induced liver damage. It has even been shown to prevent the hepatitis C virus from entering human liver cells, and prevent liver oxidative damage in mice. The liver is the organ responsible for detoxifying the body, so substances like turmeric that support liver health are vital! [14] [15] [16] [17]
How to Make Turmeric Milk?
If you want to make turmeric milk for yourself at home, there are a number of simple recipes for a delicious and effective brew. Experts agree that you can drink turmeric milk 2-3 times per day, using no more than 1 ounce of turmeric (in total). Some of the most popular turmeric milk recipes also include other healthy ingredients, such as almond milk or coconut, but the basic combination of turmeric and milk is also highly effective. So, let's take a look at the recipe below.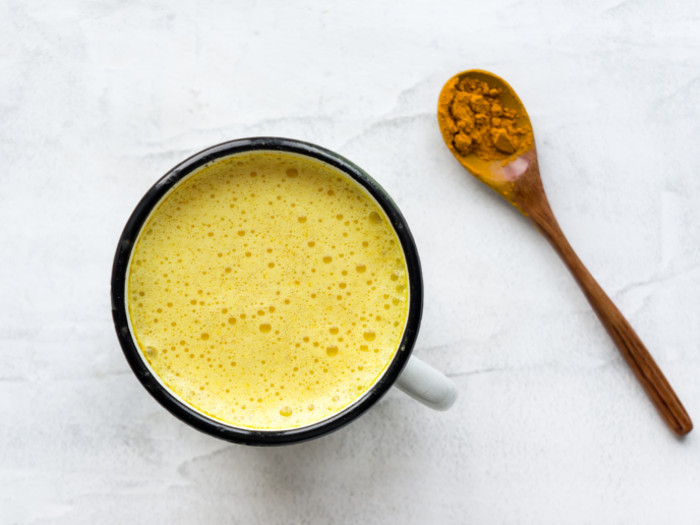 Delicious and Healthy Turmeric (Golden) Milk Recipe
Follow these easy steps to make your delicious go-to immunity booster at home!
Print
Pin
Rate
Ingredients
3/4

tsp

turmeric powder

1

cup

of milk (almond/soy/coconut)

1/2

tsp

cardamom powder

(optional)

1/4

tsp

ginger

(optional)

1

tsp

honey/sugar/jaggery powder

(if desired)
Instructions
To make turmeric or golden milk, heat the milk in a saucepan for 3-4 minutes until it becomes warm.

Now, stir in the turmeric, cardamom powder, and ginger to the milk.

Thereafter, reduce the heat to medium and allow the mixture to cook for 1-2 minutes.

Once done, strain the mixture into a cup and enjoy the warm cup of milk!
Notes
You can add pepper instead of ginger if you want. It is the perfect home remedy to cure cold and cough.
Connect with Us
If you have tried the recipe, we would love your feedback in the comments section below. And while we can't taste it, we would love to see how it turned out! You can connect with us on Facebook or Instagram and tag your picture with #organicfactsrecipes. [18] [19]