Many of us struggle with weight issues in our daily lives, from serious health ailments to the simplest of everyday problems. As per the American College of Obstetricians and Gynecologists, around 30 percent of women suffer from obesity in the United States itself, age being no bar. Given the day to day health and food choices, lack of physical activity, and work and family commitments, women often find themselves vulnerable to the growing epidemic of obesity. In such a time, it becomes imperative to talk about health supplements, and more specifically about the best weight loss supplements for women. Below we have curated a list of such supplements, with names, side effects, and dosage. Let's take a look.
Best Weight Loss Supplements for Women
The best weight loss supplements for women include garcinia cambogia, African mango seed extract, caffeine, mushrooms, and more. Let's take a detailed look at them below.
Garcinia Cambogia
Garcinia cambogia contains a compound known as hydroxycitric acid (HCA), which helps in curbing the growth of new fat cells in the body and suppressing your hunger, thereby reducing your appetite and controlling weight gain. However, there is research that suggests that HCA may help with weight loss, but only in the short term and in a very small magnitude, thereby making further research on this necessary.
According to another research published by NIH, garcinia cambogia helps in reducing weight and improving lipid and glucose blood profiles in people with obesity.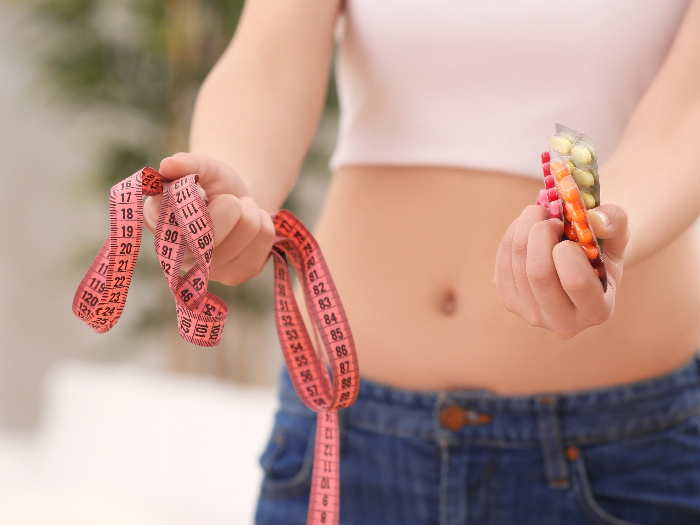 Side Effects: It is important to note that there are studies which reveal the possible side effects of garcinia cambogia, and among that liver toxicity is one. Other side effects include headaches, diarrhea, flatulence, and cold.
Dosage: It is important to take this compound in limited doses and for a short period of time, as prescribed by your doctor. According to a study published in the American Journal of Health-System Pharmacy, daily 1667 to 4688 mg of garcinia cambogia, in divided doses and in the form of capsules, caplets, and tablets, can be taken orally for weight loss. It should be taken 30-60 minutes before food.
Best-selling Supplements: Some of the most popular brands for garcinia cambogia supplements for weight loss include the following.
Quality Encapsulations Garcinia Cambogia
USA Supplements Garcinia Cambogia 1600 Max
Orphic Nutrition 100% Pure Garcinia Cambogia Extract
African Mango Seed Extract
According to NIH, African mango seed extract (AMSE) helps in curbing the formation of fat tissue and thereby promotes weight loss. This popular dietary supplement for weight loss is believed to be a healthy and natural way to reduce weight as per research conducted by the U.S. Department of Agriculture. Supplements with a combination of AMSE and veldt grape resulted in reduced body weight, body fat, and waist sizes.
Side Effect: While this extract has no significant side effects, it can still cause headaches, gas, and sleeping problems, when not taken in moderation.
Dosage: For the ideal dosage respective to your needs, please consult a doctor. However, studies reveal that three capsules with a total of 3.15 g, taken thrice a day with warm water, 30-60 minutes before food, help in reducing weight.
Best-selling Supplements: The best-selling AMSE supplements for weight loss include the following.
VIP Vitamins Best African Mango Seed Extract 1000 mg

Alkaline

Supreme African Mango 650 mg
Skin Care Solutions African Mango Extract 1200 mg
Mushrooms
Mushroom is known to help promote weight loss, according to a study conducted on the Anti-Obesity Effects of Medicinal and Edible Mushrooms. It contains beta-glucan, which being a soluble fiber may reduce intestinal absorption, thereby decreasing fat absorption and prevent weight gain. Although, more research on how exactly these mushrooms prevent obesity is still required. The studies are particularly in favor of maitake mushrooms, shiitake mushrooms, reishi mushrooms, and portobello mushrooms for weight loss in women.
Side Effects: Mushrooms can have a few side effects including tiredness, nausea, and vomiting. In rare cases, mushrooms can also cause skin rashes and photosensitivity.
Dosage: The mushroom supplement dosage depends on the form of supplement you're taking, it is always best to consult your doctor before adding any supplement to your diet.
Best-selling supplements: The most popular mushroom weight loss supplements for women include the following.
Liquidmax Organic Shiitake Mushroom Extract 1,000 mg
HealthWise Cream of Mushroom Soup for Hunger Control
Organic Chaga Mushroom Extract Powder
Caffeine
According to research, caffeine consumption promotes weight loss and BMI and fat reduction. Another research published in NIH suggested that high caffeine intake was directly linked to thermogenesis, fat oxidation, and suppressed leptin in women, which all promote weight loss. Even low caffeine consumption through green tea improved weight management.
Research on the effects of caffeine and exercise on body weight reported that those who ingested caffeine before continuing with their exercising regimen showed greater results in weight loss than those who did not ingest caffeine before the workout. Caffeine also plays a role in energy management and appetite reduction, thereby helping with obesity.
Side Effects: Caffeine can have a few side effects, including anxiety, insomnia, digestive issues, and fatigue.
Dosage: A 400-500 mg dosage of caffeine a day for adults is considered to be safe. Although the right dosage, respective on your supplement can only be prescribed by your doctor.
Best-selling Supplements: Let's take a look at the best caffeine weight loss supplements for women.
HealthKart Caffeine 200 mg
Nutricost Caffeine Pills 200mg
Herbal Nutrition Green Coffee Bean Extract
Note: It is important to consult your doctor before adding any of these weight loss supplements to your diet as they can have side effects.