Burns represent a serious condition in which a body part is affected by fire or any electrical object. Subsequently, a group of cells or tissues becomes damaged and the result can be very painful.
There is a variety of causes that form the base of this health problem. Let's explore some of the common causes of burns.
Causes of Burns
Burns may be due to daily activities like the use of a toaster, stove, iron, or common chemicals.
Thermal burns are caused due to holding hot objects, splashing hot liquid, fire, or exposure to steam.
Electrical burns are due to electrical items like ovens.
Chemicals may also cause serious injuries and accidents.
Overexposure to the sun, hot water baths, and smoking carelessly are some of the common causes of burns that occur through normal behaviors.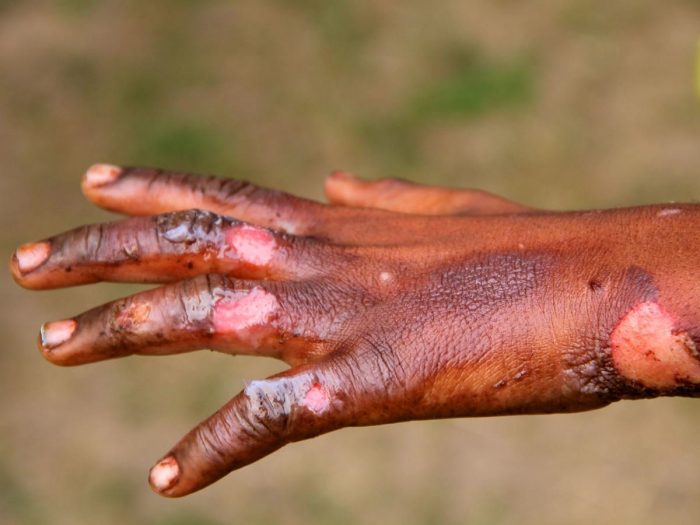 Types of Burns
There are three main types:
First degree burns – cause reddening of the skin
Second-degree burns – cause the formation of

blisters

and slight thickening of the skin
Third-degree burns – cause major thickening and blackening of the skin along with numbness.
There is also one another type of burns, known as fourth-degree burns, in which even the bones and tendons also get affected. Let us look at the types in detail below:
First Degree Burns
Burns of the first degree affect only the outermost layer of the skin and usually heal up within 7-8 days.
First degree burns lead to slight redness of the skin and pain.
They are less severe and can be easily cured by taking care and following ancient home remedies.
Second Degree Burns
Burns of the second degree are more severe and affect more than just the uppermost layer of the skin.
Second-degree burns reach into the deeper layers, thereby damaging

blood

vessels and underlying tissues, and result in the appearance of blisters.
These burns can sometimes cover larger portions of the body as well, but can still be managed at home by means of some home remedies.
Although, this is not to say that medical attention should not be sought. Consult a doctor if need be.
Third Degree Burns
Unlike first degree and second-degree burns, third-degree burns are the most severe and medical action must be sought as soon as possible.
These burns affect all the layers of the skin, and not just that, but destroy the skin, blood vessels, tissues, glands, nerves, and even bones.
These burns appear white in color, leathery or charred, and are usually

painless

due to nerve damage.
These burns can also result in death, in a case of no proper medical assistance or delayed assistance.
Symptoms
First and second-degree burns are characterized by following symptoms:
Redness
Inflammation and pain
Peeling off of the skin

Itching

and burning sensation
Fever and weakness
Purple color

Thirst

Less

urination
In case of burns, make sure you consult a health specialist and get the proper medical assistance to avoid any issues.