It seems like green foods are adamant about retaining the 'nutritious food' title. From kale to kiwi, every food is a host to multiple nutrients. This time it is wheatgrass and it is already known as a superfood. If you constantly visit juice shops or browse through health magazines, you've likely heard of wheatgrass juice or wheatgrass shots. It has received quite a bit of attention for its nutritional and antioxidant properties. It is also appreciated for its high chlorophyll content, which helps in detoxification. From gym-enthusiasts to juice lovers, everyone is extolling this green juice. But is drinking it good for you? Let us find out in this article.
About Wheatgrass Juice and Shots
Wheatgrass juice is a simple herbal beverage made by blending wheatgrass and diluting it with water or other juices. A wheatgrass shot is a concentrate which does not include any add-ons like water or juice. The trend picked up when actors like Angelina Jolie and Drew Barrymore were noticed having wheatgrass juice for its rejuvenating effects. In no time, every other person was having it first thing in the morning. Some consumed it for its detoxifying properties, while others, for weight loss. Many also praised it for its skin-enriching effects.
Wheatgrass is a nutrient-dense food. A 2018 study published in the Journal of Food Science suggests that wheatgrass contains minerals, phytochemicals, and active enzymes that can be easily absorbed. Moreover, it also contains chlorophyll, flavonoids, 17 amino acids, and vitamins C and E. Studies mention that having its juice can help you get most of its benefits. [1] [2] [3]
Benefits
Wheatgrass, if eaten raw, may be difficult to digest. So most people prefer to squeeze and juice it. The benefits of this juice are as follows:
How to Juice Wheatgrass?
Eating raw wheatgrass may be a tad bit boring but juicing it up can make it appealing. The juice is very easy to make. But there are a few things you want to keep in mind. Clean the wheatgrass thoroughly so that the soil and pesticides are washed away. Cut the grass blades into smaller 2-3 inch pieces. This strategy helps to blend or juice the grass properly. It also helps you measure the quantity of the grass easily as it can fit in cups.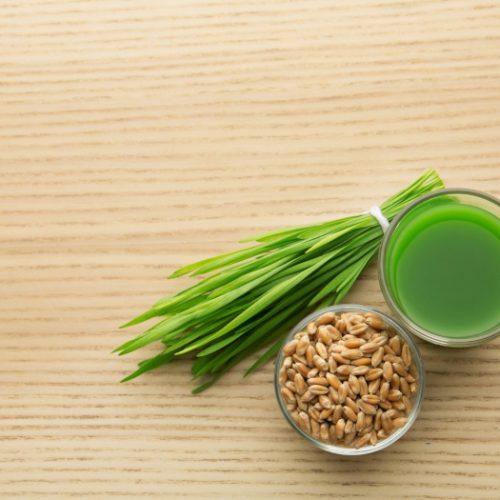 Easy Wheatgrass Juice Recipe
Make your own wheatgrass drink in minutes and give it a fruity spin!
Print
Pin
Rate
Instructions
Using a Blender
Add the wheatgrass and water to the blender. You can cut down on a cup of water and substitute it with pineapple juice if you like.


Blend it for one minute on high power or till you see a smooth consistency.

Now use a fine mesh strainer and pour the juice into a jug. Use a spatula or a spoon to press the pulp in the strainer and extract more juice.

Once done, serve it in a glass and enjoy the emerald juice!
Using a Juicer
Divide the wheatgrass into three parts. This is to ensure that you do not add all the wheatgrass at once as that may cram the juicer.

Set up your juicer, add the grass in batches and process it.

Now, add the juice to a glass and dilute it with pineapple juice and serve!
Notes
If you are keen on having wheatgrass shots, then you can avoid adding water or other juices to the beverage.
You can use different fruit or vegetable juices like celery, avocado, apple, and orange juice to mix with wheatgrass juice.
If you want to store the juice for a day or two, add a tablespoon of lemon juice for preserving.
The juicing process will leave you with a residue. You can use it to make garden compost.
FAQs
How to make this juice with wheatgrass powder?
For making one glass of wheatgrass juice, add one scoop of wheatgrass powder in one glass of water. Stir well and enjoy the drink. The juice has an overpowering, bitter taste so you can enliven it by adding some apple juice instead of water. You can also blend the ingredients. This will mix them up thoroughly and give you a good consistency.
How much wheatgrass juice should you drink a day?
There is not much evidence on the dosage of wheatgrass juice. However, you can start with 2 ounces, i.e., one shot and notice the effects on your health. If you do not find the shot palatable, then dilute it with water or any other juice. Gradually increase the intake if you see positive changes. We suggest that you talk to your doctor if you are trying it for the first time.
Where to buy wheatgrass juice?
It is available in many local and online stores. Supermarkets like Walmart and Target also have this juice on their shelves. Look for an organic version and do check the expiration date before buying. Many a time, manufacturers add preservatives like sugar and salt to juices, so make sure you read the nutrition label well before buying.
Is there any side effect of wheatgrass juice?
Consuming this juice in excess can cause nausea, swelling, headache, stomach upset, and constipation. In some cases, it may also lead to fever. Refrain from trying this juice if you are allergic to grass. If you have a gluten allergy, it is best to source organic wheatgrass when making the juice at home. For pregnant or breastfeeding women, do consult with your doctor before adding this juice to your diet. [15]