Many people are unaware of yaupon tea, but this ancient traditional remedy is experiencing a resurgence of popularity for its various medicinal benefits.
What is Yaupon Tea?
Yaupon tea is a tea made from the dried leaves of the yaupon holly tree, which is scientifically known as Ilex vomitoria. This type of holly tree is native to the southeastern region of North America and was once used as an emetic and a ceremonial tea for numerous Native American tribes. [1]
The tea is also closely related to yerba mate tea and has many of the same active ingredients and nutrients. Furthermore, this is a richly caffeinated plant, as is the tea that is made from it. In terms of taste, yaupon tea is slightly bitter and has a similar flavor profile to green tea. The smell of this tea is definitely earthy, but the health benefits far outweigh the somewhat unpleasant flavor.
Yaupon Tea Benefits
The most important health benefits of regularly drinking yaupon tea include its potential effects on cancer, blood pressure, dental health, inflammatory conditions, the immune system, and digestive processes, among others.
Anticancer Potential
Researchers from Texas A&M University studied the effect of polyphenolics from yaupon holly leaves in human colon cells. The anti-inflammatory flavones present in it, quercetin and kaempferol, showed an inhibitory effect on colon cancer possibility in these cells as they were able to reduce oxidative stress. Also, some people consider the tea to be a superfood, due to its rich supply of antioxidants and beneficial nutrients, including certain compounds that are linked to lower cancer rates, particularly colon cancer. [2] [3]
Blood Pressure
One of the active ingredients in this tea is called theobromine, which is known to help lower blood pressure and reduce strain on your cardiovascular system. [4]
Inflammation
Recent studies have found that this herbal tea can help to moderate the immune response and cut down on inflammatory issues, such as the pain and discomfort of arthritis, as well as headaches, gout, and joint pain. [5]
Immune System
There are polyphenolic compounds in this tea that have been directly linked to stimulating the immune system, which can help you avoid infections from foreign pathogens. [6]
Teeth
Theobromine is not only good for blood pressure, but also for preventing oral infections and keeping your teeth healthy.
Digestion
This tea can stimulate the digestive and metabolic systems, helping to eliminate constipation and indigestion. [7]
How to Make Yaupon Tea?
Making your own yaupon holly tea at home is a bit more complicated than making other herbal teas, but it is well worth the effort.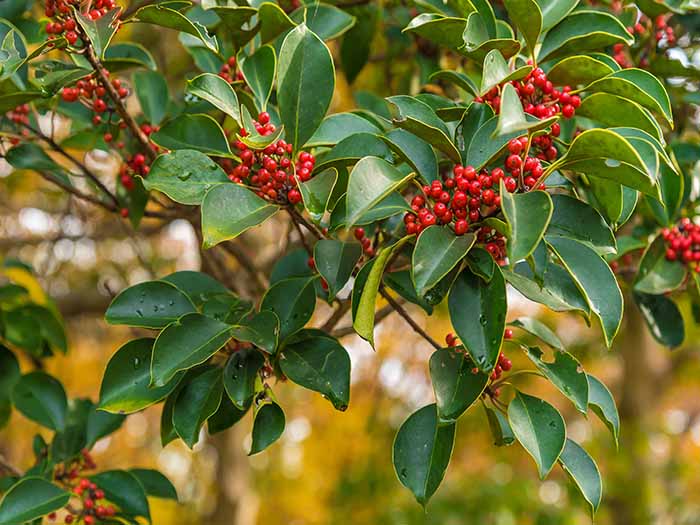 Yaupon Tea Recipe
You can make yaupon tea from scratch at home. A true Texan tea!
Print
Pin
Rate
Ingredients
yaupon leaves

3

cups

water

filtered

honey

optional
Instructions
Use fresh yaupon leaves and clean them well. Heat them in the oven at 300 degrees Fahrenheit until they begin to brown (15 minutes). You can crush them once they are completely dry and store it in an airtight container.

Boil 2-3 cups of hot water in a kettle.

Add about 1 tablespoon of the roasted leaves to a teacup.

Pour over the boiled water and allow it to steep for 3-4 minutes.

Add honey or natural sweetener to enhance the taste.

Yaupon Tea Precautions
There are some things you need to worry about with yaupon tea, particularly if you have cardiovascular problems or are pregnant/breastfeeding.
Heart Issues
Due to the high level of caffeine in this tea (comparable to green or black tea), moderate your consumption, or it can affect heart arrhythmias and the level of stress hormones in the body, which can be dangerous.
Pregnancy
Due to the caffeine level and powerful active ingredients in this tea, it is not recommended for pregnant or breastfeeding women.