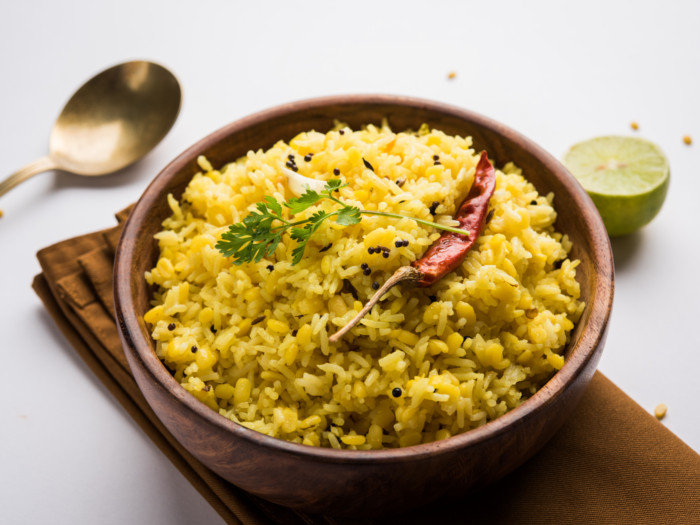 Print Recipe
Mung Beans Khichdi
Among the most common and noteworthy variants of khichdi is the one made with mung beans or moong dal, which is very good for digestion. Let's take a look at the recipe below.
Soak the dal in water for 15 minutes at least before beginning to cook. Ensure you drain the water completely before you start cooking. Meanwhile, if you wish to add vegetables, chop them into fine pieces and keep aside.

Take a pre-heated large pot and heat clarified butter in it.

Add cumin seeds and allow it to crackle in the clarified butter. Once it turns brown and the fragrance of the spice is released, fry the ginger root on medium heat. Ensure it doesn't get burnt.

Add asafoetida that has many benefits and adds flavor to any recipe. Thereafter add chopped onions and green chilies. Ensure that the raw smell of the onions goes away.

Now, to this add chopped tomatoes, salt, and turmeric and saute until they turn soft and squishy. If you're adding carrots and beans, then add them here and saute for few more minutes till they soften.

Add drained mung beans/skinned split mung beans and rice to the mixture and saute for 3-5 minutes.

Add 3 to 4 cups of water to it. Now cover the pot and continue to cook until you get it to a porridge-like consistency.

Add salt as per taste. Stir well.

Add a tsp of ghee to enhance the taste. Enjoy it as a hot meal!