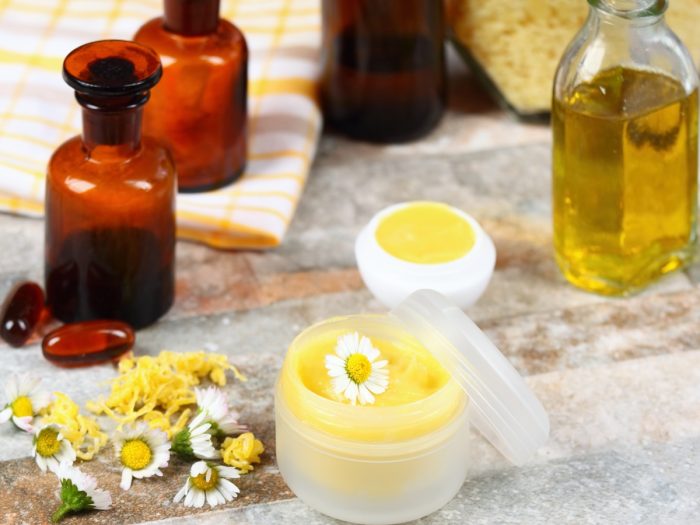 Print Recipe
How to Make Coconut Oil Lip Balm: Easy Recipe
That coconut oil is excellent for the skin is a known fact. But did you know that it also works wonders on the lips? The healing, soothing and moisturizing properties of coconut balm make it a perfect lip balm to be directly applied to the lips. So what are you waiting for? Let's get started with the recipes.
To make coconut oil balm, first, add all three ingredients to a double boiler. Alternatively, put them in a glass bowl over a smaller pan, which you will fill with water on the stove.

Then as the water below begins to heat up, the oils and beeswax will begin to liquify and blend. Stir gently so the mixture is consistent.

Once they are thoroughly mixed, carefully pour the blend into a small glass jar or other container. Store this in a dark, dry and cool place to increase its longevity.

To use, simply run your finger along the top of the hardened mixture; the heat of your finger will be enough to melt a small amount. Apply it to both lips and allow it to soak in; you should see noticeable results within a few days of use, and relief from any pain or inflammation within a few minutes.
DIY Recipe No 2
First, melt the coconut oil and beeswax in a double boiler (if a double boiler is unavailable, put them in a glass bowl above a smaller pan of boiling water on the stove.

Once the mixture is fully melted, remove from the heat and mix in the honey, almond oil and your chose essential oils.

Before the mixture can fully cool (and harden) pour it into a small glass jar or container, or you can buy empty lip balm tubes and fill those up accordingly.

Allow the lip balm to fully harden and cool before closing the lids on these containers. Store them in a cool, dry and dark place when not using them.

Apply them as you would a normal lip balm, and re-apply at least daily when you are suffering from chapped or cracked lips. This is also a great preventative measure, particularly in the winter, or in dry, windy climates.