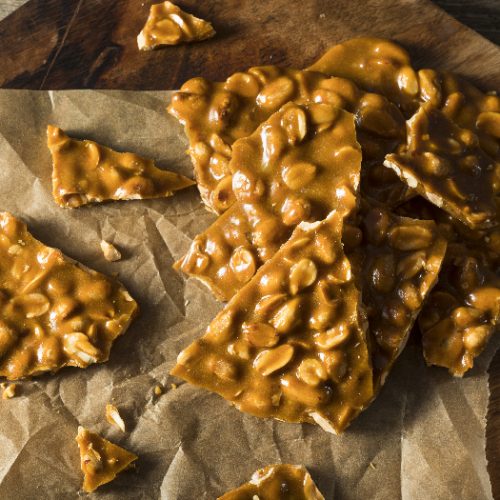 Print Recipe
Microwave Peanut Brittle Recipe
A delicious, sweet-and-salty flavored, crispy dessert for you and your family this holiday season!
1

cup

granulated sugar

1 and 1/4

cup

salted roasted peanuts

2

tbsp

corn syrup

1 and 1/2

tsp

vanilla

1 and 1/2

tsp

butter

1

tsp

baking soda
To make microwave peanut brittle, add corn syrup and granulated sugar in a glass casserole or mixing bowl and stir properly. Thereafter, microwave it for 3.5-4 minutes. To this add, the roasted salted peanuts and stir them well before microwaving the mixture for 3 additional minutes. Once you see them turning light brown stop the procedure.

To the mixture, add vanilla and butter and stir vigorously till it's properly mixed. Thereafter, microwave it for 1.5 minutes.

In the meantime, keep the buttered cookie sheet ready. Once the mixture is ready, don't waste much time and add baking soda to the mixture and stir well till it turns light and foamy. Once done, promptly pour and spread the mixture over the greased cookie sheet.

Gently spread the mixture over the pan by rotating it rather than using a spoon to do so. Continue to do so till the mixture is properly spread. Ideally, it should be at least 1/2 an inch thick. Make sure you do this quickly as the mixture, at this point in time, will start to harden.

Allow the peanut brittle to cool for 30 minutes. Once it cools down and turns hard and is smooth to feel, break the candied spread into small pieces. Store it in an air-tight container. Your microwave peanut brittle is now ready!