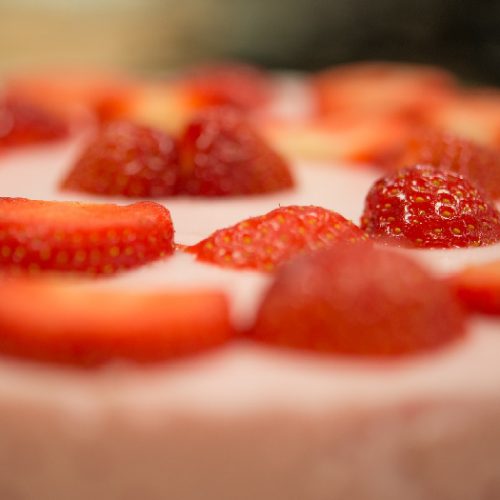 Print Recipe
Strawberry Cream Pie Recipe
An easy-to-follow recipe to make this decadent pie for your weeknight dessert cravings!
2/3

cup

powdered sugar

1

cup

sour cream

1

cup

whipping cream

1

tbsp

vanilla extract

12

ounces

cream cheese (not cold)

1

graham cracker or baked pastry shell

1

pound

strawberries cut lengthwise

Strawberry jelly or gelatin

(warmed up)
To make strawberry cream pie, beat sugar and cream cheese together in a big bowl. Then, add vanilla extract and sour cream to it and whip the mixture till you get a smooth consistency.

Once done, pour the mixture into a graham cracker pastry crust. Refrigerate it for 3-4 hours till it becomes firm.

Brush the top of the cake with jelly or fresh strawberry jam. After this, cover it with fresh strawberries cut lengthwise. Voila! Your fresh strawberry cream pie is ready to eat!

If you don't wish to use jam/jelly, you can make strawberry sauce by combining a pound of sliced strawberries, 1/3rd cup of powdered sugar, and 1 teaspoon of lemon juice in a large saucepan. Boil them together over medium heat for 20-23 minutes. It will slowly start to liquefy. Once it thickens, you'll know that the sauce is ready.