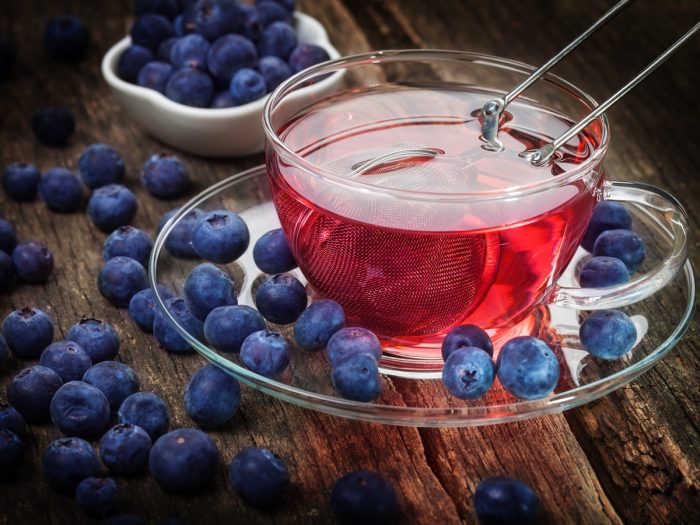 Print Recipe
Refreshing Blueberry Tea Recipe
Many people make blueberry tea with just the berries, but the leaves are also potent sources of nutrients and even contain trace amounts of caffeine that can give an energetic boost. Enjoy this wonderful berry tea hot or cold!
10-12

blueberries or

fresh or frozen

2-3

tsp

blueberry leaves

dried

2

cups

water

filtered

1

tsp

honey

optional

1

tbsp

cream

optional

1

tsp

sugar

optional
Blueberry Tea Made From The Fruit
You will need good quality blueberries for the tea. Wash them well, avoiding any berries that are shrivelled.

Boil water in a saucepan or a kettle. Steep the berries in the hot water for 10-15 minutes.

Strain the tea into cups, making sure to mash the boiled berries to get the maximum juice of the fruit.

Add sugar, honey, or cream if desired. You can also add a green or black tea bag. This blueberry tea can be served hot or iced and makes for a great party beverage!
Blueberry Leaf Tea
You can buy dried blueberry leaves at most natural health food stores or online. You can also use leaves from wild blueberry bushes. However, before you use wild blueberry leaves, make sure you choose the right leaves as other berry varieties that look similar to blueberries can be hazardous to your health.


Bring the water to a boil, and then reduce to a simmer. Add the dried blueberry leaves.


Let the leaves steep for 10-15 minutes.

Strain the tea and add honey or sugar, if desired.