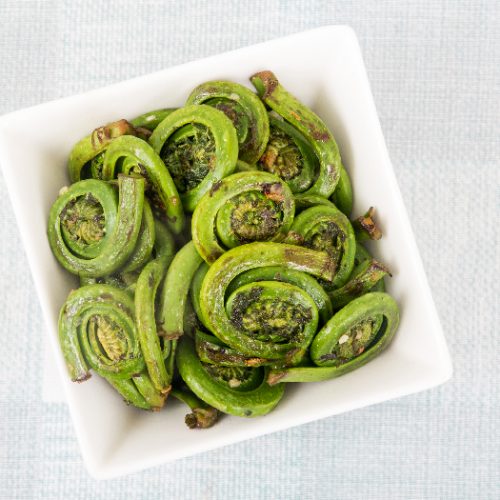 Print Recipe
Sautéed Fiddlehead Ferns With Garlic Recipe
A delicious treat to celebrate spring!
1

pound

fiddlehead ferns

2

cloves

garlic

minced

1

tbsp

butter

sea salt

to taste

1

tsp

black pepper

1/2

tbsp

lemon juice
You want to begin with cleaning the fiddleheads first. The best way is to put the fiddleheads in a bowl of water. Swish them around in the water to loosen and remove mud or dirt.

The mud will settle at the bottom of the bowl. Gently remove the clean fiddleheads and rinse it once more under running water.

With a paring knife, trim the ends of the fiddleheads. You should also remove any brown or mushy parts.

In a large pot, add the fronds and enough water to cover them. Add salt and boil them for 10-15 minutes. They will rise to the surface once done.

The boiled water may be dirty. Put the fiddleheads in a colander and rinse them with cold water. Pat them dry with paper towels.

In a frying pan, warm butter. Add the minced garlic and sauté for a minute till the aroma of the garlic gets released.

Add the blanched fiddleheads. Stir them well on medium-high heat till they begin to brown on the edges.

Add black pepper and lemon juice, and mix well. Add salt if needed. The fiddleheads are ready. Enjoy their fresh, delicate flavor!