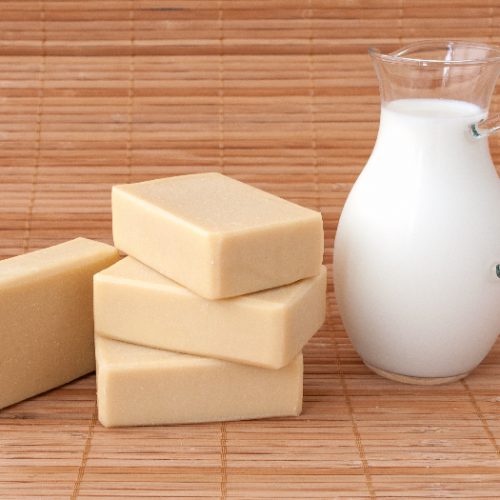 Print Recipe
Easy Goat Milk Soap Recipe
For this recipe, it's worth looking for a source of locally produced goat milk. If that is not available, look for goat milk at a superstore. If you cannot find goat milk anywhere, goat milk powder can also work in a pinch.
The day before you make the soap put the milk in the freezer. For this recipe, the milk must be frozen and not chilled. You can put the milk in an ice tray for easy-to-use milk cubes. Frozen milk is likely to get scorched when the lye is added.

Take out the frozen milk cubes in a large glass bowl and put this in a larger bowl that is filled half-way with ice-cubes. This will keep the milk cubes cold even as you work with them.

Add 1/4 of the lye flakes to the bowl with the milk cubes. Use a wooden spoon to break the frozen milk, while mixing in the lye. Once you are sure that the lye is completely mixed, add another 1/4 of the lye and mix it in the same manner. As the cubes melt, you can add the rest of the lye and mix it in.

As you mix in the lye, the color will turn orangish to light brown. This is the result of the sugars and proteins in the milk reacting with the lye. However, it should not turn dark brown. This means that the milk is scorched and you will have to start all over again.

Keep this milk and lye mix in the ice bowl while you get your oil ready. For this, just combine all the oils and heat it over a gentle flame until it is around 115°F.

Add the oils to the milk and mix it in with a wooden spoon in the beginning. Then use a stick blender to blend this mix. The mix will start to thicken at this point. You can also add a few drops of essential oils or flower petals at this time.

Pour this mix into the mold and let it set for at least 24 hours. You can now cut out the soap bars.

Now you have to cure the soap bars. Keep the soap exposed to the air for about a month, turning it over after every few days so that all sides are exposed to the air. Use a pH strip to check whether the soap is cured. The pH balance should be around 8-10.