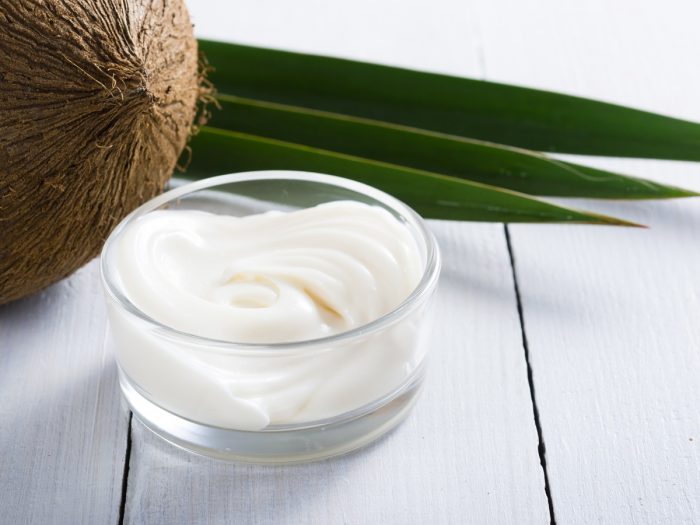 Print Recipe
DIY Coconut Oil Lotion & Bar Recipes
Coconut oil lotion and bar are full of nourishing properties, making your skin soft and subtle. We have added essential oils for fragrance. You can pick any fragrance you like.
Coconut Oil Lotion Bar
1

cup

coconut oil

1

cup

cocoa butter

1

cup

beeswax

1

tsp

vitamin E oil

5-6

drops

lavender essential oil
Coconut Oil Lotion
Put the coconut oil and the vitamin E oil into a bowl and mix thoroughly with a blender for 4-5 minutes. This will add volume to the mixture and ensure that the two parts won't separate during storage.

Add the essential oils and then blend for another 30 seconds.

Pour the mixture into a glass jar or small container and store in a cool, dark place.
Coconut Oil Lotion Bar
Heat a pan filled with approximately 1 inch of water on the stove, bringing the water to a boil.

Add the coconut oil, cocoa butter, beeswax and vitamin E oil to a glass mason jar.

Place the mason jar in the pan, allowing the heat from the water to melt the contents of the jar.

Stir the mixture continuously throughout this heating process.

Remove the jar from the pan and add the lavender essential oil.

Stir the mixture as it cools, but do not let it harden.

Pour the smooth mixture into molds (muffin pans work very well for this).

Allow them to sit for 1-2 hours, or put them in the refrigerator to speed the process.

Once they are completely hardened, gently pop out the coconut oil lotion bars!