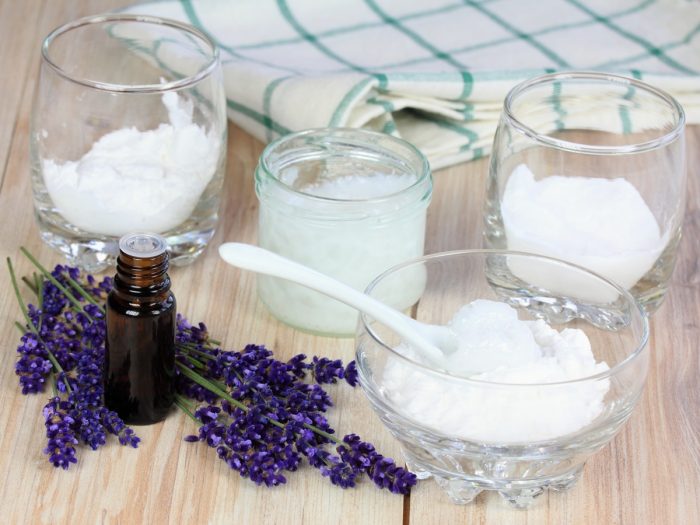 Print Recipe
Two Easy Coconut Oil Deodorant Recipes
Coconut oil makes an excellent deodorant. The baking soda, shea butter, corn starch, arrowroot, beeswax, and essential oils act as stabilizers. We have also included a baking soda-free recipe for people who are sensitive to it.
Common Coconut Oil Deodorant
3

tbsp

coconut oil

2

tbsp

baking soda

2

tbsp

corn starch

8

drops

Lavender essential oil
Coconut Oil Deodorant Without Baking Soda
1

tbsp

coconut oil

1

tbsp

shea butter

1.5

tbsp

beeswax

6

drops

vitamin E oil
Common Coconut Oil Deodorant
First, mix the baking soda and corn starch in a glass bowl.

Mash in the coconut oil into the mixture, mixing thoroughly with a fork.

Add the lavender essential oil and mix it in well.

Store the mixture in a small glass jar or container for easy use.

When using, scoop out a small amount on two fingertips and apply to the underarms.
Coconut Oil Deodorant Without Baking Soda
Once you've gathered the ingredients, mix the coconut oil, Shea butter, and beeswax into a double boiler and heat until all three melt.

If you don't have a double boiler, simply put the three ingredients into a large glass bowl or Pyrex dish, and place it on top of a smaller pot or pan with 1-2 inches of water in it. Heat the pot or pan on the stove; the steam from the boiling water will melt the ingredients.

Stir them thoroughly until they are mixed, and then take them off the heat to cool. While they are cooling, add the vitamin E oil and continue to mix.

If you would like, you can also add various essential oils (sage, lavender etc.) to the mix at this point to give the deodorant a pleasant smell. Pour the cooling liquid into a jar or deodorant container and store it in a cool place between uses.