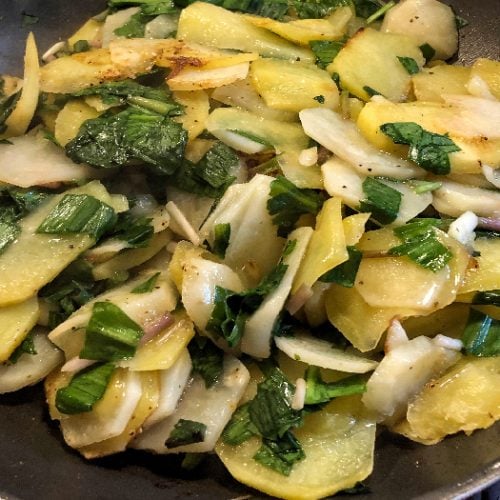 Print Recipe
Fried Potatoes & Ramps Recipe
An easy recipe that goes well with eggs and bacon for breakfast or as a side dish for lunch and dinner.
Rinse the ramps thoroughly under running water. Remove the hairy part on top of the bulbs and the translucent skin, which is the outer layer of the stalk. Slice the ramps thinly, keeping the green leaves and the white portion separate.

Cut the potatoes thin into round slices. In a frying pan, warm olive oil and put the potatoes in. Stir-fry for ten minutes on medium heat and cook till fork tender.

Add the ramps and stir-fry for two minutes. Add salt and pepper to taste. Enjoy this simple and flavorful dish!