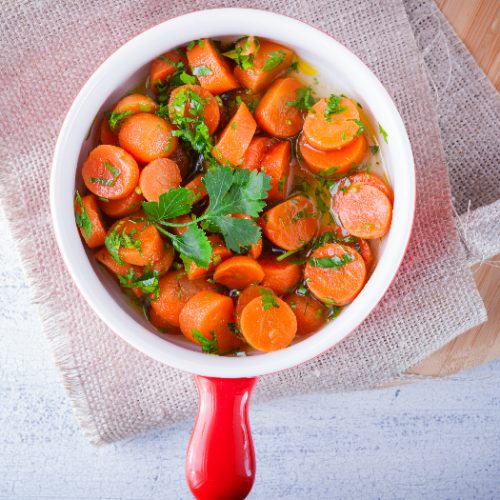 Print Recipe
A Simple Glazed Carrot Recipe
Perfectly tender and glazed carrots slow-cooked in a mixture of brown sugar/honey/maple syrup and butter, topped with a sprinkling of your favorite herbs.
To make glazed carrots, peel & cut carrots in medium coin-like sizes. Place them in a large pan. Add 1.5 cups of water & bring them to a simmer.

Allow them to cook for not less than 10 minutes or until you feel the carrots are tender. At this point, drain off any excess water.

Once that is done, add the butter, honey, and salt to the pan. Properly stir the carrots along with the honey and salt mixture. Continue to do so until all the carrots are properly coated.

Now let the carrots cook for an additional 4-5 minutes, occasionally stirring it. Stop once the sauce has formed. Lastly, sprinkle parsley or any other herb of your choice over it and serve.
Cut carrots remain fresh for up to 3 days if they are kept in the refrigerator. 
Honey is a healthier option but you can use maple syrup or brown sugar in its place if you want.
Ensure that your carrots are cut into uniformly sized pieces so that they get cooked evenly.
The addition of parsley or any other herbs is an optional step. Herbs enhance the taste. You can entirely avoid this step if you want. 

You can also use some rainbow-colored carrots for the holidays. These carrots are available in shades of yellow, red, purple and white. They are becoming more and more popular and are available in most grocery stores. Rainbow-colored glazed carrots not only look amazing but also taste good. There is a slight change in the taste and texture of these carrots from the usual ones, which you can understand only after cooking or roasting them.