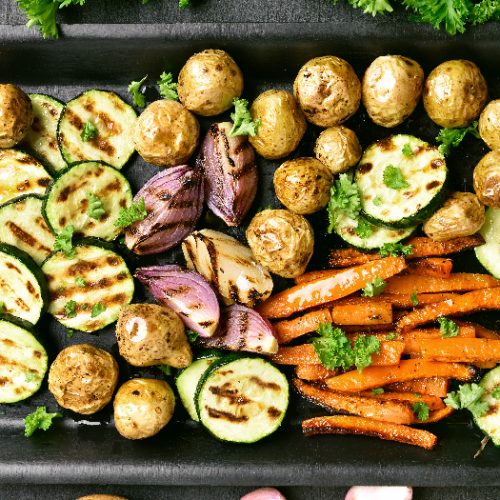 Print Recipe
Simple Roasted Vegetable Recipe
You can take vegetables available in your refrigerator to make this wonderful dish.
1

lb

baby potatoes

1

zucchini

1

carrot

1

red onion

1

tbsp

olive oil

1

tsp

Italian seasoning

salt and pepper

to taste
Preheat the oven to 400 °F. Take a baking sheet and line it with parchment paper.

Start chopping the vegetables so that they can roast evenly. Small white potatoes can be washed and wiped with a paper towel. Slice the zucchini into thick rounds and the carrots into thick long sticks. You can quarter the red onion for roasting.

Begin by roasting potatoes as they will take the maximum amount of time. Coat them with olive oil and seasonings. Put them into the oven and let them roast for 20 minutes.

Carefully take the baking tray out of the oven and toss the potatoes to the opposite side. Add the other vegetables and coat them with olive oil, salt, pepper, and Italian seasonings. Make sure each vegetable is coated well.

Before putting the baking tray in the oven, check that the vegetables have enough space and are not touching each other. Let the vegetables cook in the oven for 25 minutes or till they have a slightly charred appearance.

Transfer the vegetables to a serving dish. You can garnish the roasted vegetables with fresh herbs. Enjoy this simple, healthy, and flavorful dish!