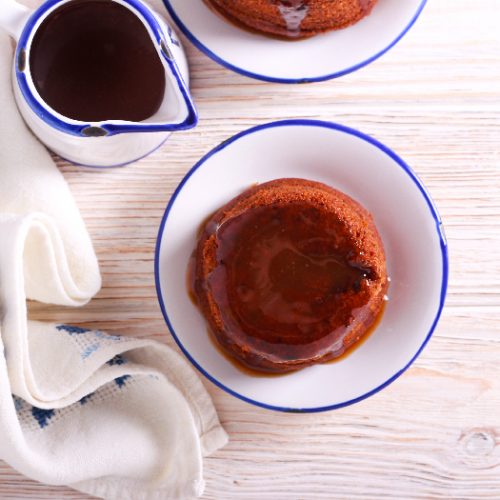 Print Recipe
Sticky Toffee Pudding Recipe
This classic British pudding is very easy to make. You can make extra batches of this delicious toffee sauce and use it for drizzling over your ice-cream or just enjoy it all by itself.
For the sponge
6

oz

dates

chopped

1 1/4

cup

water

hot

2

oz

salted butter

plus extra greasing

1 1/4

cup

self-rising flour

2/3

oz

molasses sugar

2/3

oz

demerara sugar

2

eggs

1

tsp

vanilla extract

1

tsp

bicarbonate of soda
For the toffee sauce
1

cup

double cream

3

oz

butter

3

oz

molasses sugar
For the butterscotch sauce
1 1/4

cup

whipping cream

2

oz

molasses sugar

2

oz

salted butter
To make the Sponge
Preheat the oven to 180C/350F. Generously grease a baking dish with butter.

Place the dates in a bowl and pour over the hot water. Let the dates soak for at least 15 mins.


Once the dates are softened, drain out the liquid and keep aside. Whizz the softened dates in a food processor. You need them to break down but still retain some pulp. You don't want to process them into a paste.

Add all the other ingredients for the sponge, including the drained water to the date pulp. Blend all these together till combined. You should be able to see the specks of the dates.

Pour this batter into the baking dish and bake for 40 minutes or till a toothpick inserted comes out clean.

To make the Sauce
While the cake is baking, make both the sauces. All you have to do is heat all the ingredients on a gentle heat till everything is homogenously mixed and what you have are two luscious-looking glossy sauces
To make the Sticky Toffee Pudding
Now bring it all together. Once the cake is done, pour over the toffee sauce. You can remove a thin layer of the crust from the top if you want. This helps the sauce to penetrate the sponge and soak into it.

Put the baking pan under a moderate grill till the toffee sauce on top is bubbling.

Serve this pudding hot. Pour over the butterscotch sauce over the pudding when serving.
This recipe is super rich with its two caramelly sauces. For added oomph, you can serve it with an extra serving of double cream or a scoop of vanilla ice-cream. 
Make ahead: It is important to serve this pudding hot, but that does not mean you have to start the process just before serving. You can make it ahead. Bake the sponge cake and keep the sauces ready. Just pop the pudding under the grill and serve it hot.