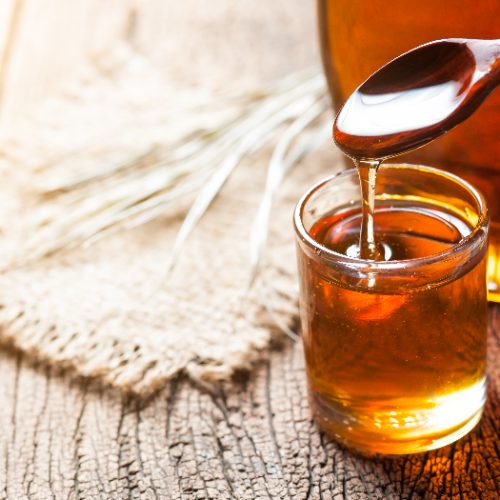 Print Recipe
How To Make Golden Syrup At Home?
This is a simple, no-fuss recipe for golden syrup.
To Make The Caramel
1/4

cup

water

filtered

1

tbsp

white sugar
To Make The Syrup
1

cup

white sugar

2/3

cup

boiling water

1/2

tsp

lemon juice or

1/2

tsp

white wine vinegar
Boil a cup of water in a saucepan or bring a kettle of water to full boil.

In another saucepan, begin making the caramel base by warming 1/4 cup of sugar with a tablespoon of water on a very low flame.

You will notice that the sugar starts turning brown, and becomes like caramel.

Now, start adding the rest of the sugar into the saucepan.

Immediately, add the boiling water (2/3 cup) to this sugar mixture. The mixture will bubble but do not worry. It will settle down.

Add the vinegar or lemon juice and keep stirring till the mixture comes to a boil.

Let it simmer on a low flame for 40-45 minutes. You may have to stir it once in a while.


Pour the homemade golden syrup into a clean storage container once it is cool. Don't fret if the syrup hardens during the cooking process. It eventually all dissolves to form a lovely caramel-colored liquid. Enjoy your homemade golden syrup!