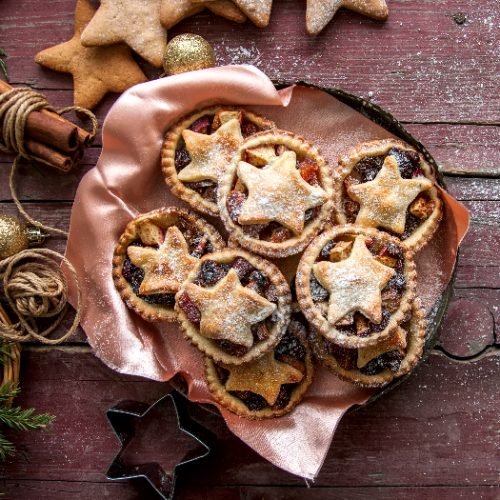 Print Recipe
Traditional Mince Pie
You can buy readymade mince for easy use. However, there is always something special about making it at home. You can also store it and use it later. It will go excellently with ice-cream or in a fruit cake.
For the mincemeat filling
6

oz

candied mixed peel

finely chopped

7

oz

raisins

4

oz

dried currants

1

tsp

nutmeg

2

tsp

orange zest

1

tsp

lemon zest

2

tsp

mixed spices

1

cup

dark brown sugar

6

oz

suet

1

apple

chopped

finely

1/4

cup

brandy

1

apple

chopped
For the pastry
2 1/2

cups

flour

2/3

cup

cold butter

cubed

1

egg yolk

1/4

cup

chilled water

Icing sugar

for dusting
Preparing the mince
Mix all the ingredients except for the brandy in a large baking bowl. Let it sit overnight in a refrigerator.

The next day, heat the oven to 230 degrees Fahrenheit. Remove the mince from the fridge, cover the bowl with a foil, and pop it into the warm oven for around 2 1/2 hours. The suet will melt during this time.

At the end of the cooking time, take the mince out of the oven and give it a mix as it cools down. This is important to ensure that the mix is homogenous.

Add the brandy and give the mix another stir to ensure that the brandy is mixed through. You can now let the fruits soak into the brandy for as long as you want. The alcohol and the suet will help to preserve the fruit. You can bottle up the mince and store it in a cool dry place.
For the pie
For the pastry dough, cut the butter into the flour and then rub it in using just the tips of your finger till the mix looks like coarse breadcrumbs. Now bring it together using one teaspoon water at a time. Do not work it too much. You want the butter to stay as cold as possible. Once you have brought it together, just wrap it up in a cling sheet and keep in the fridge for half an hour.

Prepare a 12 hole-tartlet tin by greasing it. Heat the oven to 400 degrees Fahrenheit.

Divide the flour into two parts. Roll out one part on a lightly floured surface. Using a cookie cutter or a jar lid, cut out circles. Use these cutouts to line the tartlets. Now spoon in the mince into the tartlets.

Roll out the other part and use a cookie cutter to cut out various shapes. Stars and circles make for great patterns. Slightly dampen the edges and put the cut-outs on top of the tartlets, pressing lightly and sealing the edges.

Make a small slit on top of each tartlet and bake for about 20 minutes. The tops should look golden. Sprinkle the pies with icing sugar when serving.