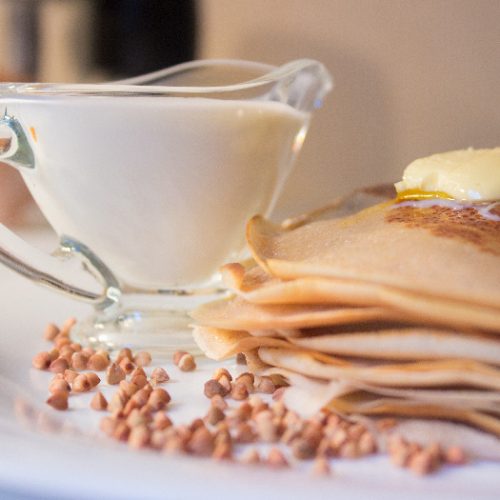 Print Recipe
Buckwheat Crepes Recipe: Gluten-free
Earthy crepes which pair superbly with cream and honey!
1

cup

buckwheat flour

2

large

eggs

2

tbsp

butter

softened

1/3

cup

water

salt

to taste
Add the buckwheat flour, eggs, milk, salt, and 1 tbsp of butter to a blender. On a low setting, blend for 30 seconds. You can also whisk it in a large bowl.

Now add the water and mix again. Keep the batter aside for a couple of hours, or even better, overnight.

When you are ready to make the crepes, prep a non-stick pan or crepe with melted butter and warm the pan. Pour the batter to make a thin crepe and swirl the pan so that the batter covers all sides. If you are using an electric crepe maker, follow the instructions and swirl it.

Cook for two minutes, or until the surface has dried. You may see that the edges of the crepe begin to curl up slightly. Use a thin spatula to lift the crepe from the pan.

Transfer the crepes to a plate and cover with a towel to keep them warm. You can also keep them in the oven if you are making a big stack of crepes.

Traditionally, crepes are served with cream and butter. You can also sprinkle icing sugar and berries on it. Enjoy!