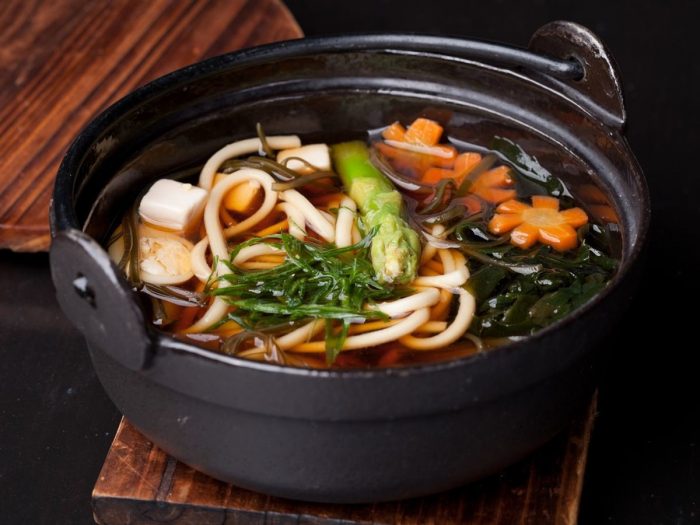 Print Recipe
Immunity Boosting Miso Soup Recipe
Enjoy a bowl of wholesome goodness to keep the hunger pangs satiated and the flu away!
1

tbsp

unrefined sesame oil

2

tbsp

finely chopped ginger

1

onion

chopped

2

tbsp

red miso (fermented soybean baste)

2

tbsp

rice vinegar

1

tbsp

finely chopped garlic

1/4

cup

of thinly sliced green onions

1/2

pound

carrots

thinly sliced

6

cups

of vegetable broth

2

leeks

trimmed and finely chopped

8

ounce

of tofu

1

tbsp

cayenne pepper

optional

salt and black pepper

as per taste

1

cup

of shitake mushrooms

1

cup

of celery
To make homemade miso soup, take a large pot and heat oil in it over medium heat. Before adding all the vegetables, mushrooms and tofu, as mentioned above, add ginger, garlic, and onions. Cook them on medium heat until they turn translucent. This should ideally not take over 5 minutes.

Thereafter, add the vegetable broth, chopped vegetables, and the tofu and bring them to a boil. Reduce the heat and simmer the vegetables until they become tender. This should not take more than 5-10 minutes. Once done, remove the soup from the heat. Add salt and pepper as per taste.

Now in a small bowl, serve about one cup of the hot broth. Add red miso, cayenne pepper (optional) and stir till it is properly mixed. Remember, cayenne pepper is added to just make the soup spicier so exercise caution on how much or whether you want to add it. Thereafter, transfer it into a pot and keep stirring. Add vinegar while you stir and ladle it into bowls and garnish them with green onions.
You can decide which miso to use depending on how you wish your soup to taste. 
If you wish to make a gluten-free and a healthier variant of the soup, you can replace the noodles or rice with butternut squash peels or zoodles (zucchini noodles).
Herbs and spices predominantly help with the flu. So feel free to experiment with them and make your own version of miso soup.