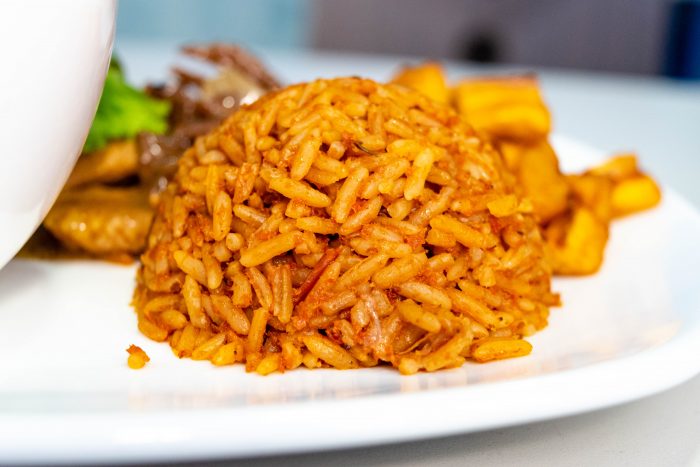 Print Recipe
Delicious Nigerian Jollof Rice Recipe
Delicious rice flavored with tomatoes and spices that can be eaten as a main dish or a side dish!
Rinse the rice a couple of times to remove the starch. Parboil the rice with three cups of water in a large saucepan. To parboil, put the rice and the water in the pan and bring it to a boil. Stir well, cover with a lid, and let it simmer for 12 minutes. The rice grains will still be hard and not completely cooked.

Slice one onion thinly. In a large, thick-bottomed pot, warm 1/3 cup vegetable oil. Add the bay leaves and the onion. Season with salt and sauté.

Add the curry powder and dried thyme. Mix well so that the spices release their aroma. Now, add the tomato paste. Sauté for a couple of minutes.

Add the blended vegetables and stir till it comes to a boil. It will take 12-15 minutes. Add the parboiled rice and the butter and mix well.

Warm 2 cups of chicken stock and add it to the pot and mix well. For the rice to cook, cover the pot with a lid. You can use parchment paper to heal seal the moisture to help cook the rice.

Remove the lid and stir the rice. You can check for seasonings and adjust the salt. Add more water if you feel that it is needed. Cover and let cook for another 5-8 minutes.

Your Jollof rice is ready and it can be served with a side of spicy chicken wings. To make Party Jollof rice, leave the pan for 3-5 minutes longer with the lid so that the bottom layer of rice gets slightly toasty. You may hear the grains crackle. Stir well and let the smoky flavor spread to the rest of the dish. Enjoy!