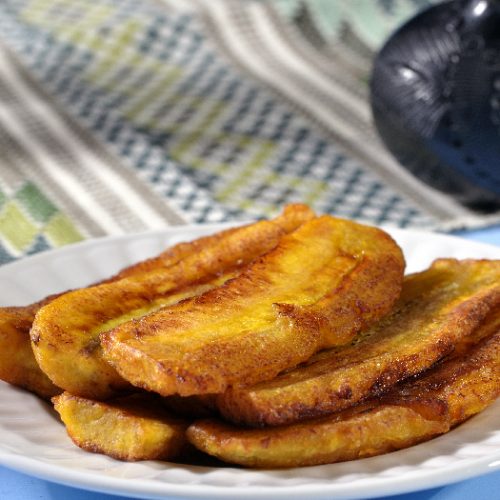 Print Recipe
Homemade Kelewele Recipe
The perfect recipe to bring Ghana's popular street food to your dinner table! Crunchy on the outside, and soft on the inside - this is what soul food tastes like!
To make kelewele, first, peel the reasonably ripe plantains and cut them either into vertical slices or bite-sized cubes, according to your preference.

Add the ginger-garlic and onion paste along with the aforementioned dry spices and salt to make the spicy paste to mix the plantains in. Mix the sliced plantains with the spicy paste in such a way that it is evenly distributed.

Meanwhile, heat the peanut oil or olive oil, whichever you choose to use. Once the oil has heated up, drop the sliced plantains into the oil using a slotted spoon.

Fry the plantains till they turn golden brown and caramelized around the edges. Enjoy the yummy fried plantains aka kelewele with some delicious dips. You can also serve it alongside rice or barbequed chicken, pork ribs and beef steaks.
Don't put too many sliced plantains all at once into the pan. This won't allow them to fry evenly and consistently. It is okay to fry them in batches so as to ensure that they turn brown evenly. 
Make sure that the oil is properly heated before frying the plantain slices. When it isn't properly heated, the plantain slices tend to soak too much oil and will end up being too soft. 
Also, be careful and ensure you remove the sliced plantains on time. Over-frying the plantains can ruin the taste.