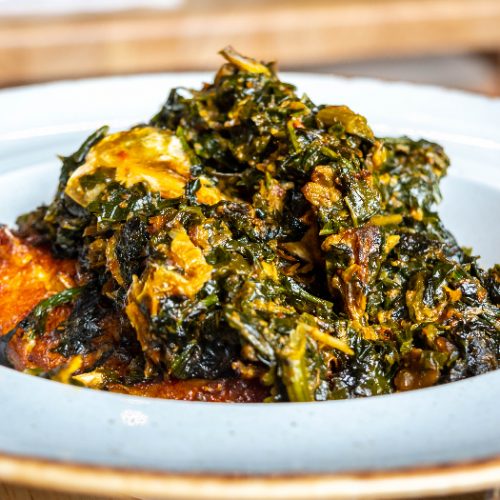 Print Recipe
How To Make Nigerian Efo Riro?
A hearty and flavorful spinach and meat stew
Blend the red peppers and Scotch bonnet peppers in a blender with a tablespoon of water. It will yield a thick red paste. Keep this aside.

Warm the palm oil in a thick-bottomed saucepan. Add the diced onions and sauté them till they are soft and translucent.

Add the pepper paste and stir well for 10 minutes. You will see that the sauce thickens up.

Season it with the bouillon cube, salt, and ground crayfish. Add dried locust bean and stir well for 5 minutes.

Now, add the meat, fish, and prawns to the sauce. Mix well. You can add a little bit of water if you feel the sauce is too dry.

Cover the pan and let it come to a simmer. This may take 15-20 minutes. Once the meat is fully cooked, remove the lid.

Meanwhile, prep the leafy vegetables. If you are using frozen spinach, let it thaw first. For fresh spinach, chop it finely. In a pan, stir-fry the spinach on medium-high flame till the water completely dries up. This retains the green color and the crunchiness of the leafy vegetables.

Now add the blanched spinach and stir well. Cook, uncovered, for 3-5 minutes. Serve the Efo Riro hot.