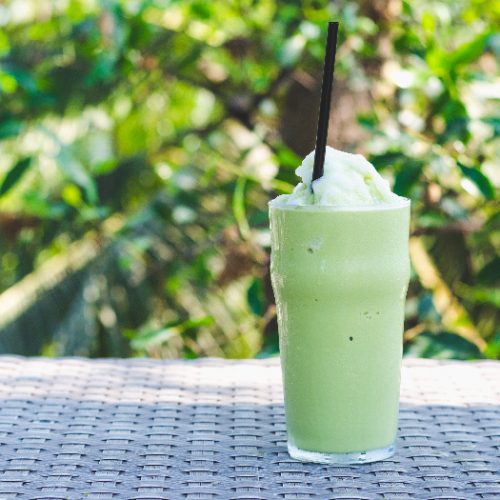 Print Recipe
Delicious Matcha Green Tea Frappuccino Recipe
Make your own version of the delicious cold drink by adding milk, matcha tea powder and a sweetener of your choice!
2

cups

of milk

as per your preference

4

cups

of ice

2

tbsp

matcha tea powder

1

tsp

vanilla extract

2

tbsp

sweetened condensed milk

1/4-1/2

tbsp

salt

optional
To make Whipped Cream
2

tsp

of powdered white sugar

1/2

cup

of heavy cream
To make matcha green tea frappuccino, first, let us start by making the whipped cream. In a tall container, whip together heavy cream and powdered white sugar. Use a handheld blender to mix the two. Continue to mix the heavy cream and sugar until you get soft peaks. Once done, set it aside.

Now, in a separate blender add sifted matcha powder, salt, condensed milk, milk (of your choice), ice, and vanilla extract and blend them together till you get a smooth and slushy consistency.

Once done, pour the drink in two glasses and add the whipped cream and sifted matcha powder as a garnish. Remember to re-whisk the whipped cream till it fluffs up before adding it to the drinks. Use a spoon to add a lump of the whipped cream to the drinks. Serve the cold drinks with a straw and enjoy!
You can substitute your regular milk with almond, coconut or oats milk if you are vegan. 
You can add honey instead of sugar as the former is a healthier option. Some people like to enjoy this drink without adding any sweetener to it.