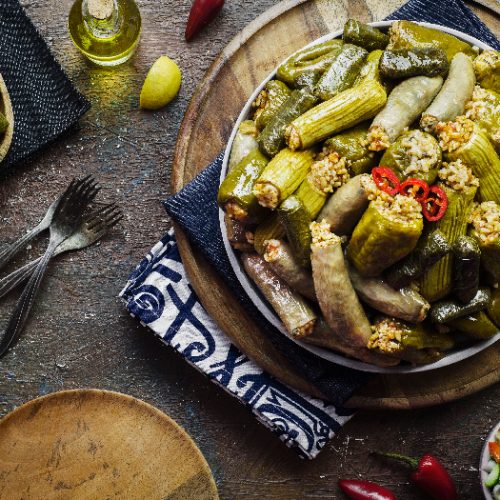 Print Recipe
Traditional Dolma Recipe
This traditional recipe takes time to cook, but the results are well worth it. Make a large platter and enjoy it with friends and family.
For the yogurt sauce
1

cup

Greek yogurt

2-4

garlic

minced

salt to taste

1

tsp

olive oil
For the olive oil sauce
2/3

cup

olive oil

4

tbsp

lemon juice

1

tsp

sugar

optional
To make the stuffing, add all the ingredients (except the leaves) in a large bowl and mix thoroughly. Add a quarter cup water as well. Keep this aside.

Take the leaves out of the can and immerse in hot water. Let them stay in for 10 minutes. Place the leaves in a colander and wash them in cold water to remove the salt.

If the leaves seem too thick and unyielding, you can blanch them further for 10 minutes in hot water.

Lay a leaf, with the shiny side down, atop a board. Cut out the stem. Place about a tablespoon of the stuffing at the base. Fold the overhanging bottom part over it. Fold in the sides of the leaves. Holding the base, start rolling till you have a neat cylindrical parcel of a stuffed leaf.

Line a deep base pan with thicker or damaged leaves. This is to prevent the dolmas from sticking to the pan.

Now start laying the rolled leaves seam-side down. Arrange the rolled parcels in layers. Dot it with butter or the ghee.

Cover them with water, so that it reaches just the top of the stack of rolled leaves. If the rolled leaves reach only up to the middle of the pan, put a plate over the leaves and then pour in the water so that it reaches above the plate.

Cover the pan and let it cook for at least an hour and a half. After they are cooked, take out the dolmas and arrange them on a platter.

To serve, drizzle the dolmas with the sauce of your choice. You can serve the sauce alongside. For an easy and quick sauce, follow any one of our recipes.
Olive oil sauce
In an airtight jar, add the salt and lemon juice. Close the lid and give the jar a quick shake. The sauce is ready. If you are storing the sauce, give the jar a brisk shake before serving.
You can make a vegetarian version by removing the meat and increasing the quantity of rice to a cup-and-half. 
Some people like to cook their dolma in a tomato sauce. For this, pour a can of tomato sauce to the dolma stack in the pan. Let the dolmas cook in this sauce.