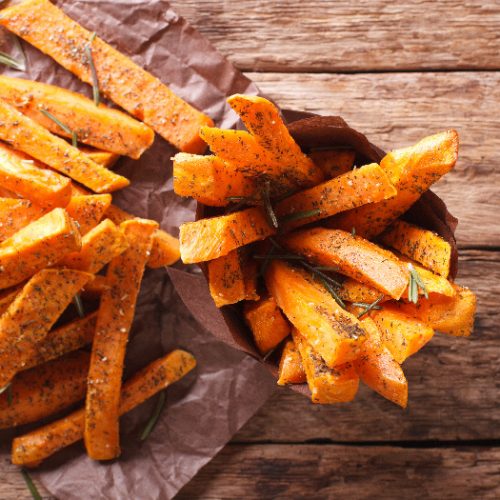 Print Recipe
Tastiest Baked Sweet Potato Fries Recipe
Bursting with the flavors of paprika, salt, black pepper, and garlic, these sweet potato fries are so good that you would keep wanting more.
2

pound

sweet potatoes

(3 medium-sized)

2

tbsp

olive oil

1

tsp

paprika

1

tsp

garlic powder

1

tsp

sea salt

1/2

tsp

black pepper

ground

1

tbsp

cornstarch

optional
Preheat the oven to 400 degrees Fahrenheit.

Till the oven gets ready, wash the sweet potatoes thoroughly under running water and remove their skin.

Now, cut the potatoes length-wise. You want about 1/4 inches wide and 3 inches long sticks.

Once you are done with cutting the potato, add them to a ziplock bag and add the cornstarch to it.

Now, lock the bag and shake the potatoes properly so that the cornstarch gets coated on them. The cornstarch helps your fries get a little extra crispness on the outside. You can skip this step if you don't wish to use cornstarch.

Now add the garlic powder, paprika, salt, and black pepper to the fries and mix them well to get a flavorful coat on your fries.

Now line the baking sheet with parchment paper and spread the fries on it. Make sure you keep the sticks separate from each other so that they get baked properly.

Cook the potatoes for about 20 minutes. Once done, flip them over and bake again so that the other side becomes crisp as well. This time keep the fries for 10-15 minutes.

Once you see the fries turning golden, remove them from the sheet and serve with your favorite dip. The salivating period is officially over and you can finally eat all the fries you want.