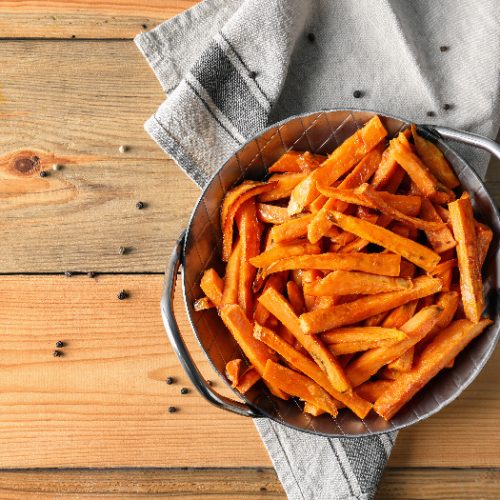 Print Recipe
Air-fried Sweet Potato Fries Recipe
Can you say this 10 times without making a mistake? 'I fried sweet potato fries in an air fryer.'
Preheat the air fryer at 400 degrees Fahrenheit.

Till the air fryer gets ready, wash the sweet potatoes under running water and peel the skin.

Now cut them into 1/2 inch wide sticks vertically and add them to a bowl.

After that, add olive oil and mix both of these ingredients well.

Toss the salt, garlic powder, paprika, and black pepper into the same bowl and combine them well so that each sweet potato stick is well-dressed in these spices.

You want to divide the fries into two or three batches so that they are fried properly. Add the first batch to the fry basket and insert it in the fryer.

Cook it for about 10 minutes. If the fries have not yet become golden, you want to cook them for a few more mins.

Repeat the same procedure for the next batches. By the way, do you know that you could treat the first batch like popcorn? Eat a few fries while the rest of the sticks are graduating.