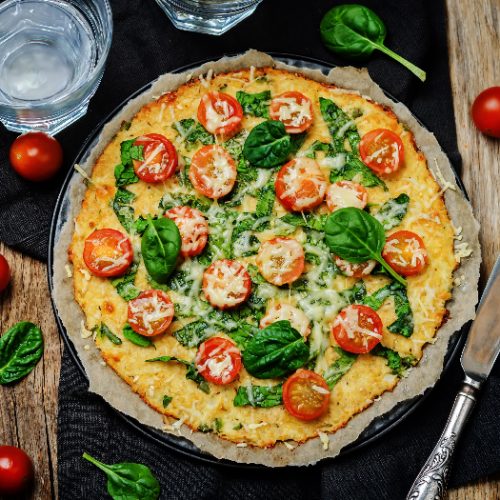 Print Recipe
Quick Keto Pizza Recipe
This crust uses coconut flour for a quick version. Use any topping that you love with this pizza.
2

eggs

beaten

1 1/2

cup

mozzarella cheese

shredded

2

tbsp

cream cheese

1/3

cup

coconut flour

1

tsp

Italian seasoning

optional
Preheat the oven to 450F. Add the mozzarella and cream cheese to a large bowl and microwave for a minute, stirring halfway through.

Take out the bowl of melted cheese stir again. Make sure it is cooled down. Add the beaten eggs and the coconut flour. Now start kneading the flour. Coconut flour firms up and dries quickly. So, it's essential that you keep working the flour.

If the cheese gets cold and firms up while kneading, you can microwave it. But keep the power low and don't microwave for too long. You will end up cooking the eggs. Alternatively, if the dough seems too sticky, refrigerate for a few minutes. Use oily hands when kneading.

The easiest way to knead the dough is in a food processor. Use a dough blade or S hook to work your dough. Take out the dough for rolling out.

You want to avoid using any additional flour when rolling out. To achieve this, place the ball of dough in the middle of two large pieces of parchment paper.

Using a rolling pin start rolling out the dough to the thickness you want. Once you are done, just peel off the upper parchment layer. Transfer the rolled out dough along with the parchment paper to a pizza pan.

Use a toothpick or fork to prick the dough to avoid any bubbling. Spread the topping and put it in the oven for baking.

The baking time will depend on the thickness of the crust. A thin crust will take 6-10 minutes, while a thick crust may take longer. Your pizza will be done when you see the edges browning.

Take out the pizza and enjoy!
Chill the dough for 30 minutes makes it more manageable when rolling out.
You can make ahead the dough by wrapping it up in a cling film and storing in the refrigerator. When baking, take it out and let it come to room temperature before putting it in the oven.