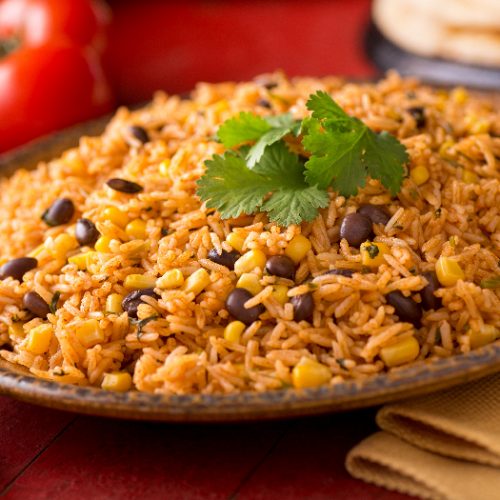 Print Recipe
Delicious Homemade Mexican Rice Recipe
Homemade Mexican rice with authentic tangy and spicy flavors!
16

ounces

of warm water

2

tsp

minced garlic

1

cup

of long-grain white rice

1

tsp

chili powder

2

tbsp

olive oil/vegetable oil/canola oil

4

ounces

of can tomatoes

2

tsp

Calde de Tomate or tomato bouillon

2.5

cups

chopped vegetables and black beans- bell peppers, corn, peas, onions.
To make Mexican rice, in a pan, heat oil over medium heat. Take a cup of long-grain white rice and fry it, constantly stirring, till it becomes golden. Add onions and saute them well.

Ensure that the heat is low to avoid the spattering of the ingredients. Gently pour in the warm water and the tomato sauce and stir the ingredients well. At this point, add chili powder, minced garlic, and Calde de Tomate and continue to stir the ingredients along with the rice. Add the chopped vegetables and black beans as well and allow them to cook.

Meanwhile, bring the heat back to medium-high and allow everything to boil. Gradually reduce the heat and cover the pan with a lid. Do not remove it while it continues to simmer. Let it simmer for nearly 20 minutes or until all the water is completely absorbed.

Once done, remove the lid and let the rice sit for about 10 minutes or so. Thereafter, fluff it up and serve it hot. You can either have it as it is or serve it with tacos, enchiladas or some other delicious Tex Mex dish. In itself, it makes for an easy dinner/supper.
If you do not have Caldo de Tomate, fret not as you can use tomato chicken 

bouillon as a fine substitution. You could also use chicken stock n leave the bouillon out completely. However, honestly speaking, Caldo de Tomate gives out the most authentic flavor so it will always help to have it at home when you are planning to make Mexican rice. 

If you are health conscious, you can use brown rice. However, do not expect it to taste the same. It also requires more water and time to cook. For every 1 cup of brown rice used you will need 2 and 1/2 cups of liquid. So if you substitute, white rice with brown rice, it takes nearly 45 minutes for the rice to become soft and tender.