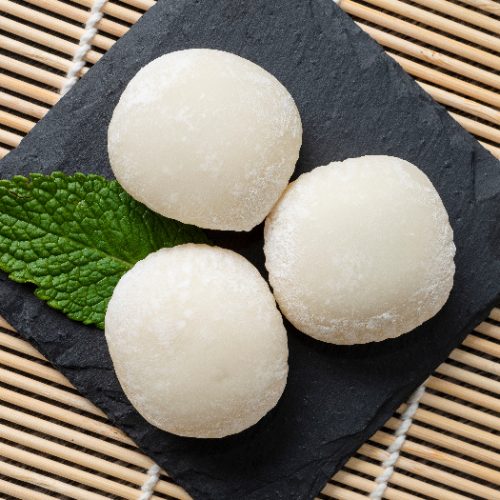 Print Recipe
Delicious Green Tea Mochi Recipe
Perfectly delicious mochi with a prominent matcha flavor
1

cup

shiroan (white bean paste)

2

tsp

matcha

3/4

cup

shiratamako (glutinous rice flour)

1/4

cup

sugar

3/4

cup

water

filtered

1/2

cup

potato starch or cornstarch
Green Tea Mochi Filling
In a small bowl, mix the white bean paste and the matcha powder well. It should form a homogenous green dough.

Cover with cling wrap and keep it in the freezer for 30 minutes. Alternatively, you can keep it in the refrigerator for an hour or so.

Once it is chilled, remove it and shape it into 6 evenly-shaped balls.
Mochi Dough
In another bowl, combine shiratamako and sugar and blend well. Now, slowly add water to form a sticky dough. Whisk well to make sure there are no lumps.

Cover the dough with a damp paper towel and microwave it for a minute at 1200W.

Remove the dough and mix it again. Cover it a second time with a damp paper towel and microwave it for 30 seconds. The dough should look opaque by now.
Making Green Tea Mochi
Mochi dough is extremely sticky. To work with it, cover your hands with potato starch or cornstarch. Similarly, spread cornstarch or potato starch on a baking sheet, so that the mochi dough does not stick to it.

Divide the mochi dough into six pieces.

Roll it into a sheet and cut 6 discs, using a small bowl.

Place the mochi filling in the center of the discs. Pull gently to cover the filling, pinch, and seal. Place the sealed portion at the bottom. Cover again lightly with potato starch powder.

Repeat with the other 5 pieces. Serve mochi at room temperature. Enjoy!
Mochi stays for two days in the refrigerator but it is best had fresh.
While they are delicious by themselves as sweet treats, you can also serve with green tea or Genmaicha tea.