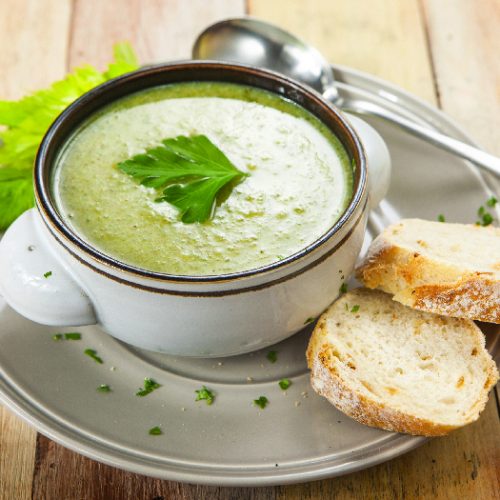 Print Recipe
Creamy Vegan Celery Soup Recipe
Try your hand at making this easy-to-make creamy celery soup without any cream or dairy product. It is a low-fat, vegan version of the typical cream of celery soup. Super healthy and delicious!
5-6

cups

of thinly sliced celery stalks with leaves

4

cloves

of minced garlic

4

cups

of water or vegetable broth

1/4

cup

of fresh dill

chopped

A

pinch

of red chili flakes

1/2

cup of parsley

chopped

1

medium onion or leek

diced

1

lb

potatoes

diced into 1/2 inch cubes

1/4

cup

vegan butter or

3-4

tbsp

olive oil

salt and pepper to taste
To make celery soup, take a pan and heat the vegan butter/oil/water. To it add the celery stalks, potatoes, onion/leek, and a pinch of salt (as per your taste). Saute them well till you see them turn golden brown. This should ideally take you not more than 10 minutes or so. Keep stirring the vegetables so as to ensure they don't burn easily.

Once done, add the vegetable broth and bring it to a boil. Reduce the heat to medium-low and give it a gentle boil for almost 10 minutes. Ensure that the potatoes are fork-tender.

Once the vegetables are properly cooked, remove the pan from the heat and add the dill and parsley to it. Stir it properly on low heat. The herbs will enhance the flavor of the soup. Please note that you can have the soup at this stage as well. Some people like to have their soup chunky and not smooth.

If not then use an immersion blender to puree the vegetables into a soup. Once done, transfer the soup to a blender and further blend it to get a creamier consistency.

Pour the soup in a bowl and garnish it with celery or parsley leaves. Serve the soup warm with some vegan cream or croutons. Many like to have garlic bread with it. Suit yourself.
If there are leftovers, you can store them in airtight containers and refrigerate them for 5-6 days. You can store it for as long as 2 months if you place it in freezer-safe containers. 
You can make vegan cream using cashews and put a dollop of it in the soup before serving. If you want to add a kick of heat to your soup, you can roast and crush black mustard seeds and add to your soup.
To add an extra dose of protein to your soup, you can add a tablespoon of hemp seed to it as well. 
To ensure your soup is not too stringy, see to it that you properly peel the celery stalks with a vegetable peeler and remove the strings. To reduce the stringiness, make sure that you cut thin slices of the celery, almost 1/4th inch. This will ensure your soup has a silky and smooth texture and consistency.