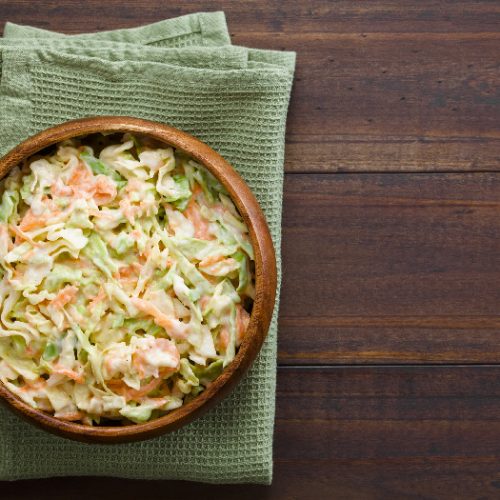 Print Recipe
Crunchy Cabbage Salad Recipe
Enjoy this simple and refreshing cabbage salad recipe with cucumber and carrot. It goes well with any meal or even with a slice of brown bread!
1

cabbage

2

cucumbers

sliced

2

carrot

julienned

3

tbsp

olive oil

extra virgin

1/2

tsp

salt

to taste

150

g

salad croutons

300

g

thousand island dressing
Wash all the vegetables and pat dry with a kitchen towel.

Discard the soft outer leaves of the cabbage and thinly slice with a slicer or using a sharp knife. Discard or save the remaining core. Transfer the shredded cabbage to a large mixing bowl.

Thinly slice the cucumbers and carrots and cut into matchsticks. Add to the bowl.

Drizzle thousand island salad dressing over the salad and toss well.

Pour the salad croutons and add a pinch of salt for the right balance of flavor.

For the best flavor and quality, keep the salad covered with cling wrap in the refrigerator. It will last up to 2-3 days. 
For those who follow a strict meal plan, you could use a light dressing or your preferred vinaigrette.
You can jazz up the leftover salad by adding chicken or using it in a sandwich like a coleslaw. 
You can also add dried ramen noodles for extra crunch and convert it into a ramen cabbage salad.