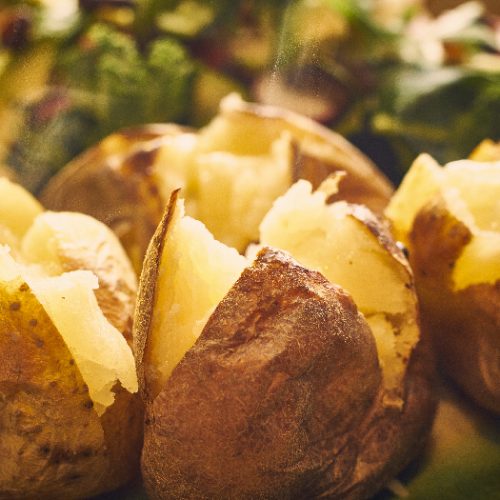 Print Recipe
Oven-Baked Potato Recipe
A good baked potato is all about a crispy exterior and a pillowy interior, isn't it?
2

potatoes

1/2

tbsp

salt

1/2

tbsp

ground black pepper

2

tbsp

olive oil
Set the oven to 425°F and keep a rack in the middle of the oven.

While the oven is getting ready, prepare the potatoes. Wash them thoroughly under running water and pat dry.

Once done, prick the potatoes on all sides with a fork. The holes allow the steam to escape.

Coat the potatoes with olive oil. You can use your hands or a pastry brush.

Once the potatoes are covered in oil, sprinkle salt and pepper on them.

Keep the potatoes on a baking sheet and bake them for 50 minutes. You want the potatoes to cook from all the sides so flip them every 20 minutes.

After 50 minutes, remove the baking sheet and carefully place it on the counter. Use oven mitts so that you do not harm yourself.

Now, pierce one of the potatoes with a fork to see if they are done. If the potato skin feels dry and the insides are soft, your potato is perfectly baked!

Now, cut open the potatoes and give the ends a slight squeeze. This will loosen up the fluff inside the potato skin.

Voila! creamy, tasty, and tender baked potatoes are ready for you!